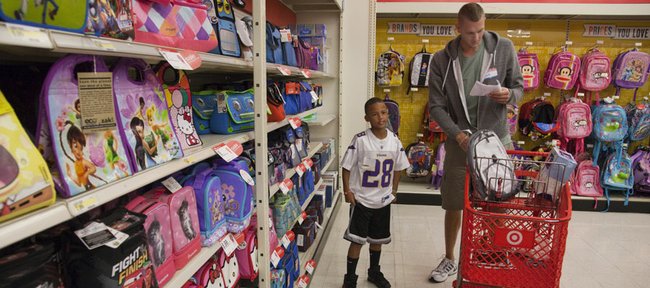 Cole Aldrich, college basketball's 2010 Academic All-American of the Year, would love to see 20 Lawrence youths attain similar success in the classroom.
The 6-foot-11 former Kansas University center contributed to that cause Monday. He teamed with Target to purchase $1,000 worth of school supplies during a morning shopping excursion in Lawrence's SuperTarget store, 3201 Iowa Street.
"I think to me, education is a huge deal. It is a driving force for everybody, whether you are in sports or not," said Aldrich, who organized the outing with the help of his girlfriend, Britt Claflin, the Salvation Army and KU associate athletic director Mike Harrity.
"You can only play sports for so long. You will need something to fall back on. Having that education really means a lot to me," Aldrich added.
He tried to show that to the 20 youngsters, who were accompanied on their shopping spree by a group that included former KU guard Tyrel Reed and current KU strength coach Andrea Hudy.
"I think the main thing is just to give back to the kids since the start of school is coming around the corner," said Aldrich, a second-year member of the Oklahoma City Thunder, currently locked out with the rest of the players in the NBA.
"One thing I always loved to do is go back to school. I am really understanding how blessed I am with the career I have and the ability to give back. Just being able to do it means a lot to myself and Britt, my girlfriend. It means a lot to us to give back to not only the community but schools around here because these kids are the future."
Reed was accompanied by his wife, Jessica, as they assisted a grade schooler in her shopping. Each of the children received a $50 gift card, though Reed and his wife contributed some cash of their own at the checkout line.
"Hey, she needed to get what she needed to get. You can never turn anyone down. It's fine to use some of your own money. I didn't make sure we were staying under budget. It's not a big deal. It's all for a great cause," Tyrel said with a smile.
"It's great Cole is doing this. I really enjoyed helping out, enjoyed meeting these kids. It was a lot of fun."
Reed, who played at KU for four years, is a KU graduate; Aldrich, who left for the pros after three seasons, is well on his way to earning his degree.
"I am enrolled in six hours right now. They are all online. I'll have three or four more classes after that. I'll be enrolled again this fall. I've just got to keep plucking away at the degree," Aldrich said.
Presently, he's planning on staying in Lawrence and working out here until the lockout ends. Aldrich does not think he'll be playing in Europe this season.
"With the lockout, it's tough because you never know when it will end or how long it will go," he said. "The good thing is a lot of the guys in the NBA now are using that time to go back to school."
Aldrich acknowledged that a lot of former college players and current NBA players will be heading to Europe in September.
His buddy, Reed, hopes to announce his overseas destination in coming days or weeks.
"I am in the transition phase, talking to a bunch of teams overseas right now," Reed said.
Asked if Greece is a hotspot destination, Reed said: "I think the whole world is a hotspot. With this NBA lockout, there's a lot of guys looking for jobs right now. It's kind of rough from that standpoint. Wherever I get on will be a country I enjoy."
House update
Danuel House, a 6-7 senior forward from Hightower High in Missouri City, Texas, has cut his large list of prospective colleges to 10.
Rivals.com's No. 26-rated prospect is considering KU, Missouri, Arizona, Baylor, Houston, Georgetown, Oregon, Texas, Ohio State, Georgia Tech.