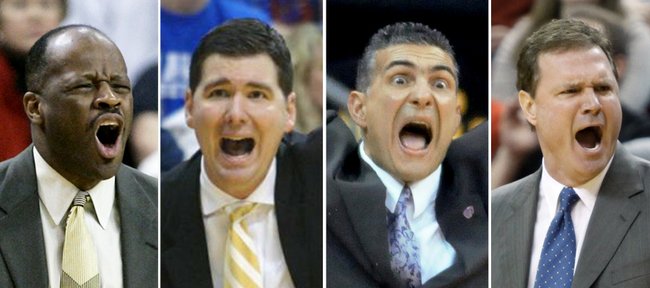 Mike Anderson. Matt Brown. Frank Martin. Bill Self.
On the basketball court, these area college coaches are fierce competitors — always trying to defeat the other.
But, Tuesday, Oct. 12, will be an exception. They will compete together from 5:30 p.m. to 7:30 p.m. at Kansas City's College Basketball Experience. Their opponent: cancer.
It's the third annual Coaches vs. Cancer Season Tipoff Reception, and if you're a KU, K-State, Mizzou or UMKC basketball fan, you won't want to miss it.
You can mingle with your favorite coach while indulging in a variety of hors d'oeuvres and beverages.
"The coaches are highly accessible, probably more accessible than any other event. So they are out there in the middle of everything," says Rick Skaggs, co-chairman of the event. "If you are a KU fan, you can go up and talk to Frank Martin and Mike Anderson and tell them how you feel, but you will find out that these coaches have a great deal of respect for each other."
COACHES VS. CANCER
The third annual Coaches vs. Cancer Season Tipoff reception will be from 5:30 p.m. to 7:30 p.m. Tuesday at the College Basketball Experience in downtown Kansas City, Mo.
Tickets are $50 and can be purchased online at kcseasontipoff.org or at the door. Proceeds go to the American Cancer Society.
For more information, contact Stacie Schroeder, of the American Cancer Society, at 438-5607 or stacie.schroeder@cancer.org.
UMKC coach Brown described the event as fun and laid-back.
"It's not stressful or competitive, but I guarantee when game time comes around, those guys are going to try to beat my pants off," he says.
A silent auction will take place with a lot of sports memorabilia, including autographed basketballs and shoes. There also will be game tickets and vacation getaways.
Emcee Norm "Storming Norman" Stewart will share stories about the coaches and rib them a little during the "coaches presentation."
"It's hilarious," Skaggs says. "A lot of these guys have coached and played against each other at different levels."
'Hits home' for UMKC coach
On a more serious note, the coaches will talk about why they support the American Cancer Society.
For coach Brown, it won't be easy this year. His 11-year-old daughter, Ally, is battling thyroid cancer. She was diagnosed last spring and has had three surgeries. She finished her last surgery about two weeks ago at the Mayo Clinic in Rochester, Minn.
"It really hits home with you when it's your daughter," he says.
Brown said his daughter plans to attend the event, and he will try to talk about his family's experience with cancer.
"I am sure it will be very hard," he says. "It will be the first time. It's been a very private thing for my wife and I and our daughter. So I am sure if I can get through it, I will try to do it."
He says Ally's prognosis is good; doctors believe the cancer is gone. She will go back for testing in six months.
"Unfortunately with cancer, what I've kind of learned is that it's an ongoing battle every day or every couple of months," he says. "We caught it hopefully at a pretty early stage."
Brown says his fellow coaches have been very supportive.
"I can't emphasize how helpful those guys were as far as my personal situation with my family, and getting me in contact with people, too," he says. "And, my experience with Coaches v. Cancer allowed me to make some contacts to get in the Mayo clinic. That's a direct way to show just how valuable the organization is."
Start of something big
Stewart founded the Coaches vs. Cancer program after battling colon cancer in 1989. Today, more than 500 college coaches are involved in the program, which has raised more than $40 million.
The Kansas City event has raised about $50,000 each year. This year's goal is $75,000. The cost is $50 per person. Proceeds go to the American Cancer Society for research, education, advocacy efforts, and patient programs and services, like the Hope Lodge in downtown Kansas City, which is a free place to stay for out-of-town cancer patients and their families. Some of those patients will attend the reception and meet the coaches.
"The thing about cancer is that in some way, shape or form there's somebody you've probably been close to that's been affected by the disease," he says.