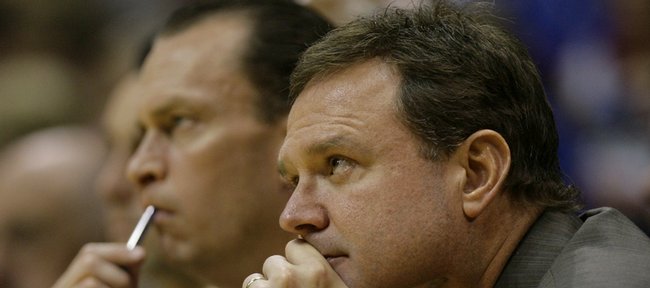 Big 12 basketball coaches believe Kansas University's string of six straight league championships will be snapped in 2010-11.
The Jayhawks placed second to Kansas State in the league's preseason coaches poll, which was released on Tuesday morning.
The Wildcats received 10 first-place votes and totaled 119 points. KU landed two first-place votes and garnered 109 points. Texas (99) and Baylor (96) placed third and fourth respectively, followed by Missouri (82), Texas A&M; (69), Texas Tech (52), Oklahoma State (51), Colorado (46), Nebraska (31), Oklahoma (27) and Iowa State (11). Coaches were not allowed to vote for their own teams.
"Based on what K-State returns and the year they had last year, I voted for them to win the league as well," KU coach Bill Self said.
KSU returns four starters off an Elite Eight team that won a school-record 29 games.
"I do like our team a lot. It is a goal of our team every year to win our league. Even though we are not picked to do that, we are going to work hard to try and achieve that. I do think the league will be as strong as it has been for the last few seasons with as much parity as there has been," Self added.
KU was last picked to not win the league during the 2008-09 preseason, when the Blake Griffin-led Oklahoma Sooners were No. 1.
"A preseason poll is a preseason poll. It is not going to affect who is going to be there at the end of the year," said KU senior guard Brady Morningstar.
"We've done our work the past six years. Obviously Kansas State is returning four starters from an Elite Eight team. They've done their work to be considered one
2010-11 Big 12 preseason poll

Kansas State (10) 119
Kansas (2) 109
Texas 99
Baylor 96
Missouri 82
Texas A&M; 69
Texas Tech 52
Oklahoma State 51
Colorado 46
Nebraska 31
Oklahoma 27
Iowa State 11