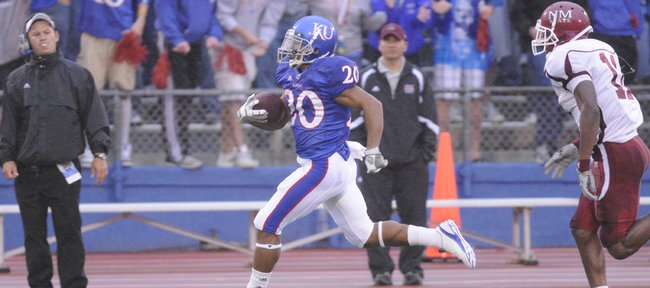 Though the Kansas University football team finished just 3-9 and won just one game in Big 12 play, three Jayhawks made enough of an impression on the league's coaches to earn All-Big 12 Honorable Mention nods.
Seniors Jake Laptad and Alonso Rojas were joined by sophomore D.J. Beshears in earning praise for their play during 2010, the league announced Tuesday.
Laptad, who led the Jayhawks with 4.5 sacks this season, earned the nod for a third consecutive year. Rojas received the honor for a second straight season and Beshears was named to the squad for the first time.
No Jayhawks made the first team, marking the first time since 2003 that the Jayhawks were left off the first team. Kansas was joined by Iowa State, Baylor and Texas Tech in being shutout of the first-team honors.
Laptad, 6-foot-4, 260 pounds, from Tulsa, Okla., recorded 38 tackles on the season. His 8.5 tackles for loss and three forced fumbles led the team. He also recorded five quarterback hurries.
For his career, Laptad leaves KU in second place on the all-time sack list with 21. Former linebacker Algie Atkinson (1998-2001) tops the list with 24 career sacks.
Rojas, 6-3, 228, averaged 42.4 yards per punt in 2010 to rank 40th in the nation. He launched 64 punts, including 14 of 50 yards or more. He also landed 14 kicks inside the opponent's 20-yard line. Rojas leaves KU with a 41.5 average, good for sixth best in school history.
Beshears emerged as a dynamic return man, finishing first in total yardage, including a school-record 922 yards on kickoff returns. His 25.61-yard average ranked 40th in the nation and fourth in the Big 12.