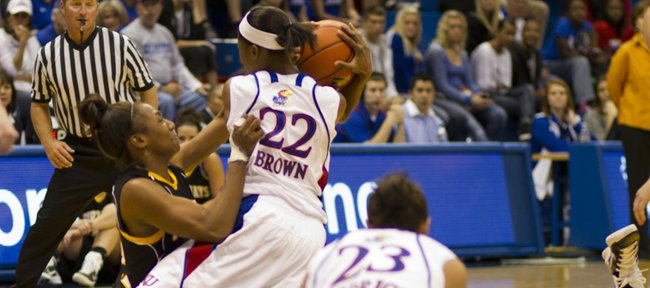 Upon officially taking the floor for the first time this season, sophomore Carolyn Davis and the Kansas University women's basketball team broke into its pregame warm-up with a casual layup drill.
The scene was a fitting prelude, because once Sunday's exhibition game tipped off, Davis made it look just as routine.
Davis scored 35 points in 33 minutes, nearly all coming right at the basket, allowing the Jayhawks to coast to an 83-62 victory over Fort Hays State in Allen Fieldhouse.
"What she did today is what great players do," coach Bonnie Henrickson said. "She made it look really, really easy."
Junior Aishah Sutherland had eight points and 11 rebounds, sophomore Monica Engelman added nine points, and senior Marisha Brown contributed 10, but it was the 6-foot-3 Davis who gave the Tigers fits.
Davis scored the Jayhawks' first 10 points and had already notched a double-double (26 points, 11 rebounds) by the end of the first half.
"It's a layup for me," Davis said. "I've shot them all my life, so I'm pretty confident."
She finished 15-of-21 from the field — 5-of-8 from the line — with 17 rebounds and six blocks.
Planted in the paint, Davis was the focal point of KU's offense, getting a touch on nearly every offensive possession. Even when the passes weren't perfect, Davis was able to snare the ball and finish smoothly.
"One thing about big kids is it seems like they can either catch the ball or they can't," Fort Hays State coach Tony Hobson said. "And she's got great hands. It's something you can't teach. "
Sure, it's only an exhibition game, and Davis' gaudy statistics don't count. And, yes, her big game came against an undersized Div. II opponent.
If Davis' performance is any indicator of what she's able to accomplish this season, though, the Jayhawks will take it.
"If she can do that in the Big 12, she'll be phenomenal," said sophomore guard Angel Goodrich, who had five points and six assists.
It only will get harder for Davis from here.
She'll face bigger, more physical defenses — especially once Big 12 play begins — and likely double-teams as well, as she'll certainly be the focal point of opposing scouting reports.
But for now, Davis will do what she does best — score at will — gaining confidence along the way.
"It really helps because I know I can finish around the rim," Davis said. "Even when I play against bigger people, I just have to look more to the rim and not worry about who's defending me."
"This is a good stepping stone," she added.
Notes
• Every Jayhawk except senior center Krysten Boogaard played. Henrickson said after the game that Boogaard has been dealing with some tendonitis and is being limited on a precautionary basis.
"We need her more in two or three weeks than we need her right now," Henrickson said.
• Freshman Brooke Jelniker started at guard and played 13 minutes with one rebound and one assist.
• Fellow freshman guard Keena Mays stood out with six points and four assists in 16 minutes.
• Jayhawk fans got a scare early on in the first half when Goodrich went down on the floor on the baseline. She grimaced, grabbing her left elbow — which she described as having been "tweaked" during a tangle-up.
Goodrich also left late in the fourth due to soreness associated with the still-healing scar tissue in her surgically repaired right knee, but said after the game that she was fine.