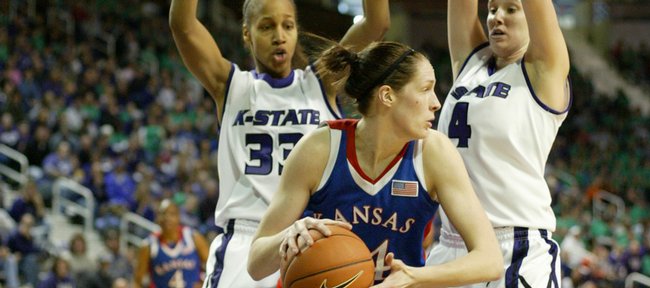 What a difference three months makes.
Last time Creighton University's women played in Lawrence, freshman point guard Angel Goodrich burned the Bluejays for a career-high 20 points in Kansas' 77-56 romp.
"We actually wanted her to shoot," Creighton coach Jim Flanery said at the time. "Not because we didn't respect her. It all starts with (Danielle) McCray because you have to put so much emphasis on guarding her."
The Jays were all over McCray, the Big 12 Conference preseason player of the year, double-teaming her time and again and forcing her to take bad shots. But that was way back on Dec. 13.
When the Jays and Jayhawks tangle today, Flanery won't have to worry about either Goodrich or McCray because both suffered season-ending knee injuries.
Tipoff for the WNIT second-round game will be 1 p.m. in Allen Fieldhouse. There is no live television, but the game will be available on the Jayhawk Radio Network.
Since losing Goodrich and McCray, the Jayhawks have become more one-dimensional, relying heavily on post players Carolyn Davis and Krysten Boogaard for scoring.
Davis was the Jayhawks' leading scorer during the Big 12 regular season, then the 6-foot-3 freshman unloaded a career-high 31 points against Oklahoma State in the conference tournament.
A recurrence of concussion symptoms forced Davis to the bench for the Jayhawks' WNIT opener Wednesday against Prairie View A&M;, but Boogaard stepped in and punished the Panthers with 37 points — 13 more than the 6-5 junior ever had scored in a college game — in an 82-70 victory.
Boogaard will start again today, while Davis, who hasn't practiced in a week, remains day-to-day.
"She's better," KU coach Bonnie Henrickson said Saturday, "but she still has to be symptom-free."
Creighton (21-10) finished second in the Missouri Valley Conference and has won six of its last seven, including a 76-65 decision over Stephen F. Austin on Friday night in the Bluejays' new Sokol Arena in Omaha, Neb.
Today's winner will meet the winner of today's Illinois State-Purdue game in the third round at a time and place to be determined.