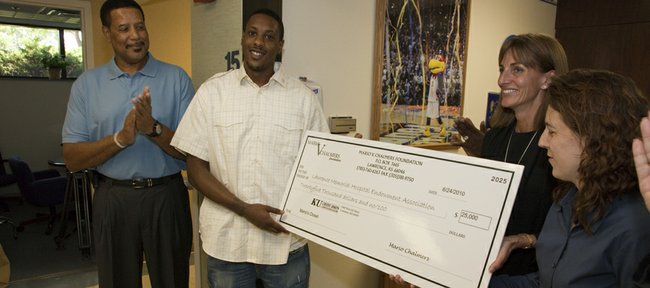 Former Kansas University basketball star Mario Chalmers brought smiles and tears of joy Thursday afternoon to cancer patients, doctors and staff members in Lawrence Memorial Hospital's Regional Oncology Center.
The Mario V. Chalmers Foundation donated $25,000 to the LMH Endowment Association to establish Mario's Closet. It will be a specialty shop for a variety of free or low-cost accessories for cancer patients, such as wigs, hats, prosthetics and special bras.
Kathy Clausing-Willis, LMH vice president and chief development officer, said LMH plans to locate Mario's Closet near the gift shop, and open it in December.
"It's incredible. We are thrilled that Mario has chosen to establish the first Mario's Closet at LMH," she said. "I just can't say enough."
Chalmers, who plays for the Miami Heat, toured the oncology center Thursday with his parents, Ronnie and Almarie Chalmers, and they met with cancer patients. Some were sporting crimson-and-blue T-shirts, wigs and bandanas.
The LMH oncology center sees about 600 newly diagnosed cancer patients per year and about 120 breast-cancer patients.
"The emotional boost that wigs, prosthetics and other accessories give to patients currently battling cancer is huge," Clausing-Willis said. "Mario's Closet will go a long way to fulfilling that need for patients in our region."
Golf tournament
The Mario V. Chalmers Foundation is having its second annual National Championship Classic Golf Tournament on July 23 with a 1 p.m. shotgun start at Alvamar Golf Course, 1809 Crossgate Drive.
The tournament benefits the foundation, which raises money and awareness about breast cancer and provides healthy initiatives for youths.
Sponsorships range from $20,000 to $325 for an individual player.
Chalmers and members of the 2008 KU National Championship basketball team will be in attendance. Chalmers also said there will be a "nice surprise."
There will be a silent and live auction during a social event for participants July 22 at The Oread hotel.
The foundation also is offering two free golf clinics July 23 for youths.
For more information about the event, visit nationalchampionshipclassic.com, or contact Ronda Green at 785-819-4653 or we2green@cox.net.
Chalmers said he wanted to give back to LMH, which treated him while playing basketball, and Lawrence, a town he considers "a home away from home."
"I still love this place," he said. "So, any time I have a chance to come back, I am going to come back."
He chose cancer because a longtime childhood friend, Paul Peterson, lost his mother, Pauline, to the disease.
"She was like a second mother to me, someone I was real close to. So, it was something I wanted to start up and find out more about, and try to find a cure and try to find a way to help people," Chalmers said.
Cancer survivor John Ross, of Lawrence, couldn't wait to thank Chalmers for his donation.
"There were people who made a decision similar to yours that brought about the oncology department here at Lawrence Memorial Hospital. I've never really got to thank all of them," he said, teary-eyed and getting a little choked up.
"But I am going to thank you on behalf of others who will come through and get to have wigs like this one," he said, pointing to a red, white and blue wig worn by Lawrence resident Angie Herring, a cancer patient. "You could have picked anywhere from snowy Alaska to sunny Florida. And, you chose the epicenter of Jayhawk nation to come and make this contribution, so thank you very much."
Ross couldn't help but mention Chalmers' three-point shot that forced the 2008 national championship game against Memphis into overtime. KU then won the NCAA title.
"You are a basketball god," he said, putting a hand on his shoulder, and everyone laughed. "You made the dreams of people, that they've held for 20 years, when you hit that shot."