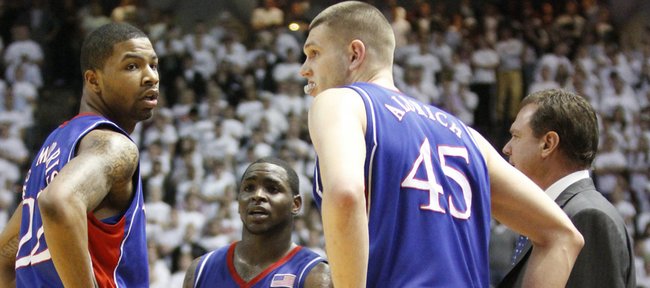 Bill Self won't be grabbing a burger or a beverage at world famous Eskimo Joe's restaurant tonight or Saturday in Stillwater, Okla.
"It's a business trip. We will not mix in personal on this business trip," said Self, Kansas University's seventh-year basketball coach, who both played and served as an assistant coach at his alma mater, Oklahoma State.
"There are some people I'd love to see, but it'll be when we come out of the locker room after the game," Self added of Saturday's 3 p.m. battle between (27-1, 13-0) KU and (19-7, 7-6) OSU at Gallagher-Iba Arena in Stillwater.
"It's not a negative toward OSU, but I can't do both."
Self frankly will be too busy fine tuning his game plan tonight than to think about any outside distractions in his old college town.
He holds a 6-6 all-time coaching record versus Oklahoma State in stops at KU and Oral Roberts — but just a 1-4 mark in Gallagher-Iba.
"My teams have probably been beaten as badly in Stillwater as any place," Self said. "Our worst defeat in conference play since I've been here was in Stillwater. It was only a 20-point game, but it felt like 40. That was a total domination."
Self — his Oral Roberts teams fell by 42 points (94-52) in 1993 in Gallagher-Iba and 17 in 1996 — came out on the wrong end of an 80-60 decision as KU coach on Feb. 9, 2004.
It's actually KU's second-worst loss in conference play in the Self era. Texas pasted the Jayhawks, 80-55, on Feb. 25, 2006, in Erwin Center in Austin.
Self, who is 3-0 versus OSU in Allen Fieldhouse, directed the Jayhawks to a 64-49 victory on Feb. 13, 2006, in Stillwater, but fell, 61-60, in his last trip there — on Feb. 23, 2008.
"Our team in '08 ... it didn't win in Austin, Manhattan and Stillwater. It'd be nice for this team to definitely make a sweep of that and do something that our other (NCAA title) team labored so much to do," Self said.
"Our motivation for this trip would be a chance to win another game and go 14-0 and win it (Big 12 regular-season title) outright and also beat a very good team. Sherron hasn't won there. That's motivation for him right there," Self added of senior Sherron Collins, who has not won in just two Big 12 venues — Lubbock, Texas, and Stillwater.
Self, by the way, says there was a time early in his career he did get extra fired up coaching against his alma mater. That time has passed.
"I think when Michael Jordan was playing for the Wizards and every time he went back to Chicago to play it probably lessened a little bit as far as being emotional," Self said. "I could be wrong. Of course, I'm not comparing this to Jordan, gosh that's a bad comparison," he added with a smile. "Anybody going back to play their alma mater I would think it'd be emotional, but I don't think it's going to be that big a deal."
Race to 2,000
KU, which has gained 13 games on North Carolina this season, now has 1,997 all-time victories — just one behind the Tar Heels' 1,998. KU could catch UNC on Saturday. The Jayhawks play at Oklahoma State, while the Tar Heels visit Wake Forest.
Self said he hadn't been paying attention to the race to 2,000 wins.
"Who really cares about that, getting there first? Does it mean you've got a better program? It doesn't mean anything," Self said. "I think from our fans' perspective it'd probably mean something just based on the history of Carolina and Kansas. To me, that doesn't mean much at all."
C.J. Henry update
Self said freshman guard C.J. Henry, who has been out since the third week of January because of a severely bruised tailbone, has been "practicing off and on."
"He slipped on the ice the other day. That didn't help his back at all. I don't know if we'll use him in a game coming up, but he's probably 70 to 80 percent."
NBA updates
It's that time of year when players are peppered with questions about their futures.
Junior Cole Aldrich was asked if he's approaching next Wednesday's home finale against Kansas State as his final game in Allen Fieldhouse.
"It's everybody's final home game for at least this season," Aldrich said. "It's one of those things you want to make sure Sherron goes out on a great note. He deserves everything we're going to try to give him."
Freshman Xavier Henry also gave a nondescript answer when asked about possibly jumping to the NBA after this season.
"I just try to stay focused with my main goal of coming here — helping my team win a national championship. I don't think too far into it, and if I'm ready, I'm ready. If I'm not, I'm not," Henry said.
"Truthfully, they (media, fans) were looking at me as maybe a one and done. I was already set on being the best I could be, getting the most out of college I could while I could because I didn't know how long I'd be there," Henry added, referring to his attitude from Day One on campus. "I just wanted to get as prepared as I can. I'm still trying to do that right now. If I'm ready to go to the NBA at the end of the season then, God willing, I will, but if not, so be it, I'll stay another year."
Henry said he likes, "college, school. I like my classes. I like being around people a lot. It's been a fun experience, getting to know everybody and my teammates and stuff. Being around this group of guys, so many personalities, it's amazing what you can learn from everybody else."