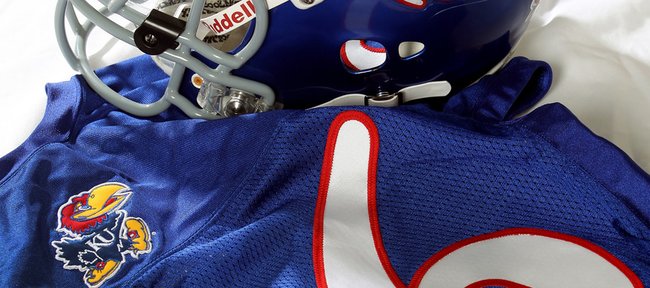 Reader poll
Yes

32%

912 votes

No

55%

1592 votes

Undecided

12%

345 votes
2849 total votes.
Kansas football fans will see some slight changes in the football uniforms starting in the 2010 season.
For the first time since 1981, players' last names will not be on the back of their uniforms. A Jayhawk logo will appear in the location instead.
"The reasoning behind not having the individual's names is to support what we are expecting from our team and program," KU football coach Turner Gill said in a release. "Our program is about team. We are representing the University of Kansas. You will see that name on the front of our jerseys."
Also, KU's blue helmets will not have a red stripe running down the middle during the 2010 season. The logo on the helmets — the "KU" in Trajan font — will remain unchanged.