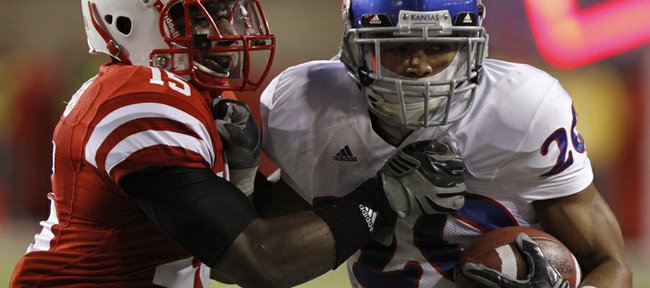 Saturday's Kansas high school Class 6A state championship game in Topeka featured a heavy dose of future Jayhawks.
State champion Wichita Heights, which was led all season by running back and Kansas University commitment Dreamius Smith, pounded Olathe North, 48-14, at Washburn University.
Smith, a 6-foot, 205-pound running back who committed to KU in March, finished the title game with 286 yards rushing and four touchdowns on just 17 carries.
His first TD, a 58-yarder in the first half, got the scoring started. Smith added three more TD runs (10, 30 and 60 yards) in the second half, and Heights avenged a 34-point loss to O-North in the 2009 title game.
Although Wichita Heights dominated from start to finish, Olathe North got its offense on the board thanks to a hook-up from a pair of KU commitments.
Trailing 41-0, North quarterback Victor Simmons hit wide receiver Adonis Saunders with a 79-yard TD pass late in the third quarter.
Simmons, 6-1, 185, orally committed to KU on June 10. Saunders, 5-11, 185, followed with a commitment on Oct. 25.
Simmons and Smith are three-star prospects according to Rivals.com, while Saunders is a two-star guy. The national signing period for high school football recruits begins Feb. 2.
Steele honors Beshears
College football analyst Phil Steele dubbed KU sophomore D.J. Beshears his third-team All-Big 12 kick returner for the 2010 season on Thursday.
Beshears broke a school record in 2010 with 922 yards on 36 kickoff returns.
Earlier in the week, Beshears earned an honorable-mention nod from the Big 12 coaches at the same position.
Briscoe activated by Bucs
Former KU wide receiver Dezmon Briscoe, a sixth-round draft pick of the Cincinnati Bengals in last April's NFL Draft, has been activated by the Tampa Bay Buccaneers.
Briscoe, who was waived by the Bengals in early September, joined the Bucs a few days later and has spent the season on Tampa Bay's practice squad.
KU LB up for Rudy Award
Kansas junior linebacker Steven Johnson is one of 55 college football players eligible for The College Football Rudy Award, an honor named after the former Notre Dame walk-on whose story was made famous in Hollywood, given annually since 2007 to the player who best brings that "something extra" to his team.
One component of the award is a fan vote.
Johnson started with a bang, receiving as much as 25 percent of the vote in the early going. However, as of 5 p.m. Thursday, Johnson's total was down to one percent.
The voting will run through 7 p.m. on Dec. 13, and the winner will be honored with an academic scholarship to his school in his name and a reception on Jan. 11, 2011 in Dallas.