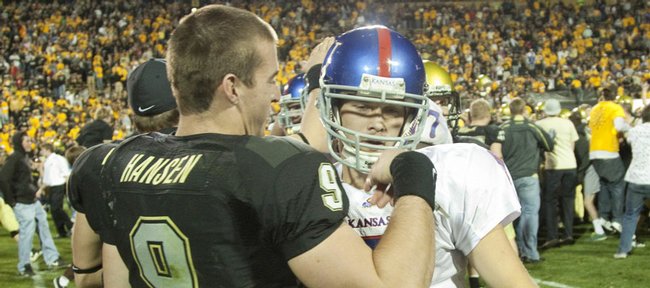 Note: This story is part of the 2010-11 KU football preview section that will appear in Saturday's Journal-World. Check back to KUsports.com throughout the week for a breakdown of each Big 12 team, including an in-depth look at KU's offense, defense and non-conference schedule.
Every time Colorado football coach Dan Hawkins has done well at a school, he has left before being able to soak up the benefits.
He won city titles as a high school coach, took Willamette University in Salem, Ore., to the national title game in Div. III and made playing in bowl games the norm while putting Boise State on the map.
Maybe that's why Hawkins, who enters 2010 with a 16-33 record in five years at CU and sits on a seat that always seems to be hot, is still at Colorado: There's still work to be done.
"I'm just always fired up to go," Hawkins said. "I really am. It seems like the older I get, too, the sooner I get fired up. I have a great bunch of guys I'm excited about being around and coaching, and all of that stuff is tremendous."
As for the rest of it, things like Colorado's impending departure to the Pac-10 and the fact that another sub-par season likely would end with Hawkins being kicked out of Boulder … those things don't bother Hawkins because he doesn't let them.
"I'm not about looking back," Hawkins said. "I think having a roster this year of a lot of guys that have played, a lot of guys that have competed, and having guys that can step up and play and know that you have to practice well every day, you've got to study film every day, you've got to be at your best every day, that leads to better Saturdays."
Colorado returns 53 letter-winners and 15 starters from 2009, and, judging by the way Hawkins and company have talked about the upcoming season, that's more than enough to take the first step toward returning Colorado to the glory days of the Big Eight and early years in the Big 12.
CU returns its entire offensive line, two quarterbacks with significant game experience in Cody Hawkins and Tyler Hansen, tailback Rodney Stewart and a deep and talented receiving corps.
Defensively, Colorado will be led by its secondary, where All-American candidate Jimmy Smith will hold down the right cornerback spot, and senior Jalil Brown will take care of things on the left side.
For Hawkins, 2010 isn't as much about the individual pieces being in the right places as it is the entire team moving forward together.
"For us, that's been the whole concept," Hawkins said. "Let's look at this thing from an objective standpoint of what's really affected the wins and losses. Can we clean this up? Can we be responsible for this?"
The Buffs could be bolstered by the presence of wide receiver Travon Patterson, a transfer from USC who is eligible to play at CU this season because of a special NCAA rule allowing leniency to juniors and seniors who transfer from a program that faces sanctions which prevent it from playing in a bowl game.