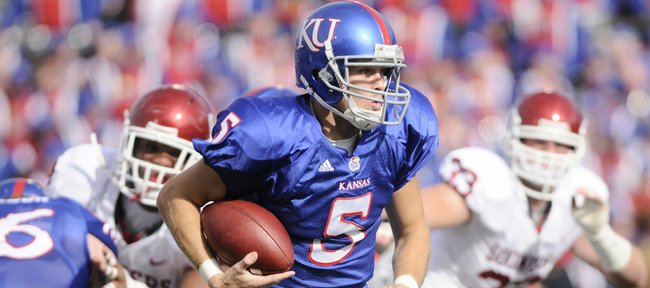 It's a far cry from the "No More Potts!" chant showered upon Texas Tech quarterback Taylor Potts during the Red Raiders' 52-30 loss to Texas A&M; last week. So that's good.
But as the quarterback of a Kansas University football team coming off a pair of disappointing losses and a stretch of less-than-stellar offensive play, Todd Reesing has become the face of the team's recent struggles.
"That's the nature of the position," KU offensive coordinator Ed Warinner said Tuesday. "You get a lot of credit, maybe more than you should. And you get a lot of blame, maybe more than you should."
Lately, it's been the latter.
In the past two games, both Kansas losses, Reesing has borne the brunt of the blame in a pair of ugly offensive performances. Against Colorado two weeks ago, he fumbled and threw an interception, both of which gave the Buffaloes the ball inside the KU five yard line and both of which led to touchdowns. The following week against Oklahoma, meanwhile, he tossed three first-half interceptions that put Kansas in an early 14-0 hole.
Reesing hasn't been the only problem, of course. The lack of a consistent defensive effort and a substantial running game has hindered the team greatly over the past two weeks.
But being the quarterback at a Div. I school, there are certain crosses that one bears.
"Things go wrong ... (and) you guys are going to blame him, because he's the poster boy, if you will, of our offense," running back Jake Sharp said. "So he takes a lot of extra things that he doesn't need to take, I think, when things go haywire.
"We did a lot of things that I think put him in bad situations that we as offensive teammates can't do," he added.
On Tuesday, Kansas coach Mark Mangino insisted that the recent struggles — though disappointing for his senior quarterback — have done little to shake the player's spirit.
Reesing still took the practice field on Sunday with the usual bounce in his step, the coach said, and he has been able to avoid letting his recent drop in play affect his preparation for Saturday's 2:30 p.m. matchup with the Red Raiders in Lubbock, Texas.
"The casual fan can tell by watching him play how competitive he is and how badly he wants to be successful," Mangino said. "So obviously when things don't go your way, it hurts, it's painful. But he's not the kind of guy who's going to get down and pout."
What's more, he might be in line for a speedy recovery.
A week ago, the Red Raiders gave up 559 yards of offense to Texas A&M;, including 238 through the air, and spent much of the day looking lost on defense.

Based on the fact that Reesing has never had three off-games in a row — until recently, in fact, it was hard to find a two-game stretch in which he was sub-par — teammates don't seem overly concerned heading into Saturday's game.
"He'll bounce back," assured defensive back Chris Harris. "... I know the type of player he is, I've been here with him, and I have total confidence in Todd."
Tech taps Doege as starter at QB
Texas Tech red-shirt freshman quarterback Seth Doege will start Saturday's game against Kansas, ESPN reported Wednesday.
Doege, who was 18 for 25 for 146 yards in the team's loss to Texas A&M;, will start in place of the struggling Taylor Potts, a decision Mangino said wouldn't significantly alter the Jayhawks' preparations.
"No matter who the quarterback is, they do a lot of the same things, they're consistent in what they do," the coach said. "So I don't know how big of a difference it makes from our perspective."
KU Quarterback Club to meet
The KU Quarterback Club will hold its weekly meeting at 5 p.m. today at Buffalo Wild Wings, 1012 Massachusetts St. Jayhawk Radio Network color analyst David Lawrence will be the week's guest speaker and will be followed by "Hawk Talk with Mark Mangino" at 6 p.m.