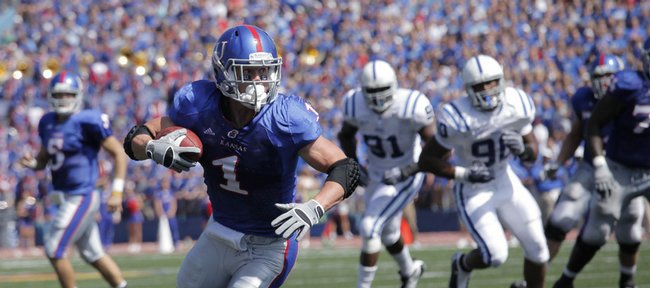 Jake Sharp is tough.
Just about everyone associated with the Kansas University football team will tell you so. They will tell you this any time you ask about the speedy running back, and, often, when you don't.
In fact, if you are a reporter covering the Jayhawks, and you have been doing your job for a year or more, you probably have been subjected to at least 37 stories about how much Sharp can lift or how many hits he can take or how much pain he can tolerate — the point of all these stories being: Jake Sharp is really, truly, a tough son of a gun.
So Tuesday, when the Jayhawks' senior running back was asked whether he was still hampered by an undisclosed leg injury that kept him out of three games earlier this season, his response was not altogether surprising.
"No," he said, seeming a little annoyed by the question. "By no means."
Anyone who has watched Sharp since his return, however, undoubtedly has been struck by the fact that the Salina native has yet to return to his early-season form, and comments Sunday from KU coach Mark Mangino — who indicated the player still lacked his usual explosiveness — did nothing to dispel this theory.
In two games since returning from the injury, Sharp has looked far from his old self, rushing for a combined 51 yards on 20 carries —just 2.6 yards per carry — despite averaging 113.5 through the Jayhawks' first two games this fall.
What's more, as the team's top running back has struggled to regain his old form, the team's ground game has struggled right along with him.
The Jayhawks have managed just 73 combined rushing yards in back-to-back losses to Colorado and Oklahoma — including a minus-eight-yard performance against the Buffaloes — totals that have led the team's coaching staff to make the ground game a high priority heading into Saturday's 2:30 p.m. road matchup with Texas Tech.
"We have to be who we are, and I think we have to continue to try to establish the run game and have some balance, because if you have some balance, good things happen for you," offensive coordinator Ed Warinner said. "That doesn't always happen —sometimes the defense will dictate whether you have balance or not. ... But we definitely have the mind-set where we need to run the ball effectively."
While the lack of a 100-percent healthy Sharp certainly hasn't helped, meanwhile, the team's recent rushing troubles can be attributed to a number of factors.

In each of their past two games, for instance, the Jayhawks have been forced to play from behind after falling into a considerable scoring hole, causing them to stray from the run game in an effort to maximize the clock.
The team is still breaking in a young and relatively inexperienced offensive line, meanwhile, and despite Mangino's assertion that "Jake on a bad leg is better than a lot of running backs on two good legs," the absence of a fully healthy Sharp has forced coaches to alter certain aspects of the run game.
"Certainly, Jake has an element of speed that we like to have on the field," said offensive-line coach/run-game coordinator John Reagan. "It's not necessarily that (his health) has been a hindrance, but certainly we haven't had that, so we've had to work different directions with it."
Last week, the different direction was true freshman running back Toben Opurum, who recovered from a two-carry, three-yard performance against Colorado two weeks ago to rush for 59 yards on 13 carries against Oklahoma, turning in an impressive 4.5 yards-per-carry average against one of the nation's top defenses.
Based on the unpredictable nature of the Big 12 Conference so far this fall, however, it's hard to tell what to expect for this weekend's game. The Red Raiders have had success against two of the conference's top rushing team's this season, holding Nebraska and Kansas State to a combined 186 yards on the ground, but last week gave up 321 run yards to Texas A&M;, a team that entered the game with an undistinguished ground attack.
What's less questionable is this: For Kansas to put itself in position to battle for a spot in December's Big 12 championship game, a substantial ground attack is a necessity.
"We need to go out there at the start of the game and get our offense established early," Sharp said. "That's a big thing, and once that happens, and if we can get our run game established, then things open up and things just start rolling for us."