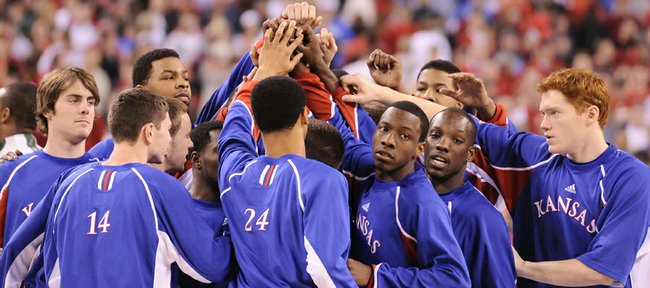 Feature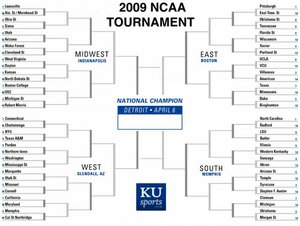 Get yer bracket on! Browse all brackets, check out out KUsports.com staff brackets, and check to see how your bracket's holding up after each match up is complete.
Kansas University's basketball players and coaches boarded the team bus at 10 a.m. Saturday in front of the downtown Indianapolis Omni Severin Hotel, hoping they'd be back in Hoosier Country sooner rather than later.
Indiana's capital city, proud host of 2009 Midwest Regional semifinal and final games, is the site of the 2010 Final Four.
"You guys (media) think about things like that. I guess it will be a goal, 'Yeah, let's get back to Indy. We'll do it different this time,''' KU coach Bill Self said, adding, "I haven't thought about that at all. I will say this: What a venue," he exclaimed.
"Next to San Antonio, in my eyes, this is the best place to have a Final Four because everything is right here."
Lucas Oil Stadium, site of the Jayhawks' 67-62 Sweet 16 loss to Michigan State on Friday night, was located a stone's throw from KU's team headquarters as well as several other hotels such as the Hyatt, Hilton and Westin establishments.
The Indiana Pacers' Conseco Fieldhouse, where KU practiced Thursday morning, also is in the immediate area.
"If this team stays together, there's no reason why — (when) we get stronger in the weight room — we can't mature into a team that has a realistic chance," Self said.
"I'll be honest with you. I think if we won (Friday), I think we had a chance (in today's Elite Eight game). Louisville was terrific (in 103-64 victory over Arizona)," he added, while wondering if maybe the law of averages might doom the Cardinal shooters, who cashed 57.6 percent of their shots versus 'Zona.
Of course, in this day and age, there's no telling what KU's roster will look like next year.
If sophomore Cole Aldrich and junior Sherron Collins put their NBA aspirations on hold a year, they will be joined by fellow scholarship players Tyrone Appleton, Mario Little, Brady Morningstar, Marcus Morris, Markieff Morris, Tyrel Reed, Travis Releford, Tyshawn Taylor, Quintrell Thomas and transfer Jeff Withey.
KU has signed point guard/shooting guard Elijah Johnson of Las Vegas' Cheyenne High and Thomas Robinson, a power forward from Brewster Academy in Wolfeboro, N.H.
If shooting guard Lance Stephenson of Brooklyn, N.Y., Lincoln High commits to KU on Tuesday or Wednesday at the McDonald's game, KU would have 15 players for 13 scholarship slots.
Self late in the season on his Hawk Talk radio show said KU would oversign if the odds were great a player or two might leave the program. He said he would never ask a player to leave.
"I will get information (from NBA front office officials and coaches on Aldrich and Collins)," Self said.
"They'll do what's best for them. I do have an opinion on what is best for them for their life. My opinion sometimes doesn't always matter (concerning a player leaving early)."
KU, which finished 27-8, would be a likely preseason top-five pick with the two on board one more year.
"We'd be a contender for a national championship," Collins said.
"I think we could be really good," Aldrich noted. "We were really good this year. Unfortunately, we made some uncharacteristic plays that cost us a few games. We've got so many guys with talent. We're all going to learn from this."
"We could be great. We could have just as good a team as last year," Mario Little said of the 2008 NCAA championship season. "We all know what to do now. We are not newcomers anymore."
As the future sorts itself out, the present mood around the program is one of pride. KU won the Big 12 regular-season title and reached the Sweet 16 without five starters from last year's team.
"When everybody doubts you, doesn't think you'll do anything from Day One ... we feel we proved everybody wrong," freshman Marcus Morris said. "Making it to the Elite Eight really would have proven a lot of people wrong.
"We felt it was there. We proved people wrong by winning the Big 12. It would have been great to beat Michigan State. We really could have proved them wrong."
Self, who is a leading candidate to be named the Associated Press national coach of the year early this week, said he thoroughly enjoyed coaching this group.
"I'm proud of them. Our guys played beyond their years," Self said. "There's no question these guys exceeded a lot of outside expectations. They were terrific. It was a fun group to coach.
"We rode two guys hard the whole year, and each got better. They dragged the young guys along with them. They delivered," he added of Aldrich and Collins.
"The thing I'm most proud of is our toughness level increased so much by the end (of year). Hopefully if we are able to keep our guys together it'll transfer to next year. Our guys will be better because basketball this time of year comes down to a few possessions.
"Looking back, I will have no regrets about this team, zero," he added.