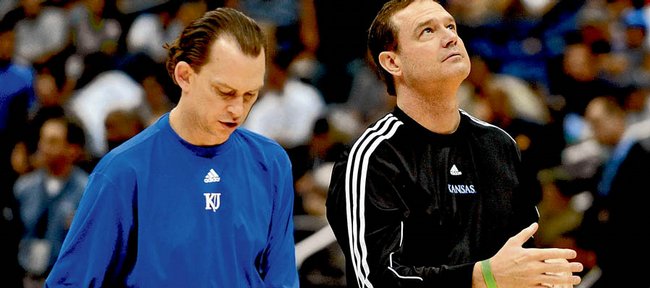 Top aides
Here are the top 21 high-major assistant coaches as ranked by Jeff Goodman of FOXsports.com:
Russell Springmann, Texas
Jeff Battle, Wake Forest
Larry Shyatt, Florida
John Groce, Ohio State
Mike Hopkins, Syracuse
Joe Dooley, Kansas
Josh Pastner, Arizona
Steve Forbes, Tennessee
Matt Driscoll, Baylor
Robert Burke, Georgetown
Tom Herrion, Pittsburgh
Donnie Daniels, UCLA
Brett Gunning, Villanova
Scott Duncan, UCLA
Stan Jones, Florida State
Mark Montgomery, Michigan State
Dwayne Stephens, Michigan State
Bob Cantu, USC
Paul Lusk, Purdue
Dedrique Taylor, Arizona State
Rodney Terry, Texas
Bill Self and some of his closest friends celebrated into the wee hours of the morning Tuesday, April 8, at San Antonio's Hilton Palacio del Rio Hotel, located just down the road from the Alamodome, site of Kansas University's national championship victory over Memphis.
In a crowded suite, Self, KU's fifth-year basketball coach, made his way to fifth-year Jayhawk assistant Joe Dooley, one of the bright minds on the staff.
"It's a good time. Everybody's laughing, hugging, giggling. Joe is sitting by himself, zoned out like he can be sometimes," Self said.
"I say, 'Joe, isn't this awesome?' He said, 'We've got to figure out a way to do it again.' He didn't relax even 15 minutes after the game. His attitude is, 'As much fun as it is, we've got to get a game plan together to be in the game again.'
"Joe is wired to compete. He is driven. I'll put it like that. He's driven," Self added.
The 42-year-old Dooley - key in the recruitment of players such as Mario Chalmers, Sasha Kaun and Cole Aldrich as well as KU's four incoming players from Dooley's East Coast backyard - recently received some national acclaim for all his hard work.
A year after being named one of the top four recruiters in the country by Rivals.com, the West Orange, N.J., native last week was tapped one of the country's top assistants - in fact No. 6 overall - by foxsports.com.
"I would say Joe is definitely one of the premier guys out there," Self said. "I've said it many times and I believe it ... we have the best staff in the country."
Dooley, who shrugs when asked about the accolades - "that and a dollar will get you a bowl of soup. Obviously anytime you get recognized it's nice" - explained his version of the postgame victory party.
"I was probably moreso relieved and tired than anything else," Dooley said. "It was humbling, an awesome feeling to win the national championship. I'm happy for coach (Self) and our players, Kansas, our fans and ourselves.
"(But) if we didn't think about winning another one, we wouldn't be doing our jobs," Dooley added Saturday, speaking while on a Mother's Day shopping excursion with his son, Max.
"I think it should be our goal every year to compete for it. A championship is something good programs need to use as a stepping stone recruiting-wise. It can help set you up for the future."
Winning titles also can pave the way for assistant coaches like KU's Dooley, Kurtis Townsend and Danny Manning to land head-coaching jobs.
Dooley - who already has been a head coach, leading East Carolina to a 57-52 record from 1995-99, and an assistant at South Carolina, New Mexico and Wyoming - didn't need the crown to pad his resume.
"Joe has had opportunities to go be one (head coach) since he's been here," Self said. "They were not opportunities he and (wife) Tanya were looking for at the time."
A true team, Joe and Tanya Dooley considered some head-coaching job offers at unnamed schools the past several seasons.
"They have not been good fits. I had an opportunity a couple years ago that was a good fit," said Dooley, who along with Townsend coaches the perimeter players at KU; Manning the big men. "My wife and I discussed it. We talked about when we came to Kansas we wanted to get to a Final Four and win the national championship. My wife mentioned that was a career goal of mine, that Kansas is a place we can compete for Final Fours and championships. Career-wise it (winning a title) is something I really wanted to do."
Self said Dooley "will be a head coach again."
"I'd like to," Dooley added, noting his experience at East Carolina - he took over the program at the age of 29 - was "a great learning experience.
"There was a new AD. He wanted me gone. I wanted to be gone," noted Dooley, the only coach at the school in the last 50 years to have a winning record.
"Right now, the big thing is it has to be a good situation, a top-half-of-the-league job. It doesn't make sense to take a bad job. If there's no commitment to the program, there's no sense to take it to tell you the truth."
That's because the Dooley, who was a two-year starter at guard for George Washington University -says he "loves" his life in Kansas.
"It's a great place. My family likes it here. Bill is a great guy. There are great players and people here to work with," the 1988 GWU graduate said.
The former St. Benedict's Preparatory School legend - he set a school record with 1,140 career points - has done a great job this past school year of attracting fellow Easterners to Lawrence.
"Joe was the primary guy recruiting Quintrell, Tyshawn and the Morris twins," Self said of power forward Quintrell Thomas of St. Patrick High in Elizabeth, N.J., point guard Tyshawn Taylor of St. Anthony High in Jersey City, N.J., and Marcus and Markieff Morris of Apex Academy in Pennsauken, N.J., originally out of Charter High in Philadelphia.
Recruiting analysts like Adam Zagoria of the Herald News in New Jersey and the Zagsblog Website, have taken notice.
"Joe Dooley has done an excellent job recruiting some of the top talents in his home state of New Jersey. This year alone he has pulled in players from two of the premier teams, not only in the Garden State, but in the country as a whole in Tyshawn Taylor, from mythical national champion St. Anthony, and Quintrell Thomas of St. Patrick," Zagoria said.
"The Morris twins, although from Philadelphia, played last year in New Jersey. In large part because of Joe Dooley, Kansas is getting extremely well-coached, hard working, talented players used to playing in pressurized situations on the big stage.
"I think the Big East schools in the New York, New Jersey area hope to be as successful recruiting New Jersey as Joe Dooley has," Zagoria exclaimed. "The coaches in New Jersey know him well."
Indeed, Taylor's coach, Bob Hurley, said, "We've know Joe Dooley a long time. He played against us when he was in high school."
Dooley is comfortable recruiting his old neighborhood and plans on taking part in good-natured verbal battles with Thomas, Taylor and the twins next season.
"No doubt about it," Dooley said. "Quintrell lives 150 feet down the street from St. Benedict's (in Newark). They lost to St. Anthony in the state championship. St. Patrick had won it the last two years. St. Anthony, St. Benedict's and St. Patrick all were in the top 11 in the USA Today poll. All are within 12 to 15 miles of each other."
Dooley continued. ...
"There is Mr. Hurley ... we were never able to beat St. Anthony's when I was at St. Benedict's," Dooley said of Hall of Famer Bob. "His son (Dan) coaches my high school now. We still have the same headmaster. St. Patrick and St. Anthony are rivals now. Kevin Boyle has done a great job there (at St. Pat's).
And as Rivals.com and Fox Sports have noted, Dooley has by all accounts done a stellar job at KU.
"Joe is a premier coach. Our staff is unbelievable. I've got the best staff around," Self said.
"We're a little partial, but we think it's the best," Dooley agreed. "We've got a good mix of experience - Kurtis and I have done this a while, and Danny brings an unbelievable resource and wealth of knowledge. He loves basketball, loves working with the players. You can see it in individual workouts."