Kansas University senior Wayne Simien wept as he walked toward his parents amid a shower of flowers before Wednesday's Senior Night game against Kansas State at Allen Fieldhouse.
He made the Wildcats' players, coaches and fans sob the next 40 minutes, scoring 25 points and grabbing a career-high 20 rebounds in the Jayhawks' 72-65 victory, their 30th in a row over their in-state rivals.
Simien had more than twice as many points as any other Jayhawk, pretty much single-handedly making sure KU (22-4 overall, 12-3 Big 12 Conference) wrapped up at least a tie for the league title with one game remaining -- Sunday at Missouri.
"Twenty-five and 20 ... it's a great way to go out," said Simien, who topped his previous career high of 17 rebounds set against Colorado this season and Texas Tech last year.
"Rebounds mean effort, and you always try to put forth the effort. More importantly we beat our in-state rival, we clinched a share of the title. You couldn't script it any better for our final home game."
Simien put up monumental numbers, considering he was an emotional wreck all day leading up to his long-awaited Senior Night, which doubled as the day KU celebrated the 50th anniversary of the first game in the fieldhouse.
"The guys were distracted," KU coach Bill Self said. "You could tell at shootaround. I asked if they (seniors) were nervous. 'Dub' (Simien) about broke down at shootaround. I've never had players break down at shootaround before. My talks are not that inspirational."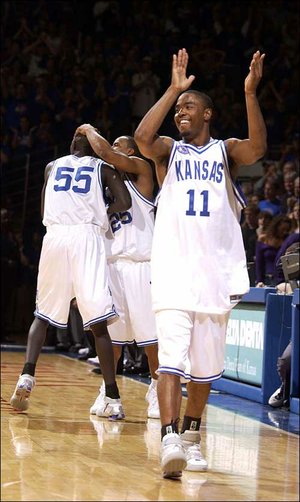 Simien, who hit seven of 15 shots and 10 of 11 free throws just four days after scoring a career-high 32 points against Oklahoma State, admits it was a wild day.
"Yeah, man, at shootaround, walking to class, warmups before the game," Simien said of times during the day he shed tears. "Knowing this would be the last of a lot of days in the fieldhouse for me was pretty emotional."
Simien had seven points and nine rebounds the first half as KU struggled to a 32-26 lead against KSU's zone.
"We didn't play great," Self said. "I didn't think we would play great coming into the game. I thought we would be a little tight, and I knew that they would play zone the whole time.
"The game went pretty much as scripted. I knew it would be a grind-it-out game."
The seniors all contributed on the court before speaking to the fans after the contest.
Michael Lee hit three of KU's nine threes and scored nine points in 29 minutes. Keith Langford had 12 points off 4-of-10 shooting -- eight points the first half. And Aaron Miles scored 12 points and dished seven assists against four turnovers.
"It was great. I am happy how it went down," Langford said. "We won. We got to talk and shed some tears. It's another great memory. I've had great memories here. I'm at the point in time I'm ready for something different, but this has definitely been a great experience."
Lee agreed.
Go figure
58Points scored by Kansas seniors Wayne Simien (25), Keith Langford (12), Aaron Miles (12) and Michael Lee (9)
20Career-high rebounds for Simien
40.9KU's 3-point shooting percentage (9-for-22)
21.4KSU's 3-point shooting percentage (3-for-14)
"When the game started, I was already tired," Lee said. "Coach said we had to come out and focus, and if we did, it'd be a great Senior Day. K-State played zone so high that it made us stand around too much. We stuck with it and were able to grind out a win."
Miles says the Jayhawks would take the W.
"It would have been nice to beat them by more so the players who don't play as much could have played, too," said Miles, who committed a late turnover on purpose per instructions from Self so the seniors could exit with 11 seconds left to cheers from the crowd. "Getting a share of the conference championship is most important because we like to be known as winners."
They are, Self said.
"All our seniors played well," Self said. "You are not going to look very good unless you shoot the ball well, and we shot only 43 percent tonight. I was proud, though. We are not going to apologize for this game, but we can play better."
The players can't speak any clearer, or better.
"They were worried about what they would say today. No wonder, they each talked for 20 minutes," Self said with a grin.