C.J. Giles hopes an invitation to USA Basketball's Men's Under-21 National Team Trials signals the start of something big for his budding college basketball career.
"Just getting invited : I feel people see a lot of potential in me, and I've got to live up to that right now," said Giles, Kansas University's 6-foot-10, 235-pound sophomore-to-be forward from Seattle.
Monday it officially was announced he was one of 21 players to vie for 12 spots on the U.S. team that will participate in the FIBA World Championships on Aug. 5-14 in Argentina.
"I really want it bad," Giles said of surviving tryouts July 21-23 in Dallas and wearing the red, white and blue of the U.S.
"Throughout history, guys from Kansas have played for U.S. teams. I just want to increase the tradition and awards that go out to the school. If I make that team, I add to the school's tradition."
Making the team and playing against international competition, "could help my game a lot," said Giles, who averaged 2.8 points and 2.4 boards while playing in 21 games his injury-plagued freshman season.
"The good competition down there would be real good for me."
KU coach Bill Self agrees.
"C.J. is a guy that needs a lot of repetitions," Self said. "Certainly we'll be counting on him for major minutes next year. I think C.J. going and having a chance to play against some of the best will do nothing but help him."
Giles, who entertained youths Tuesday at Self's KU basketball camp by slamming 19 straight dunks in a minute long drill, hopes to become more than a dunker his soph season.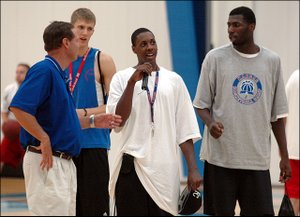 "What I need to do is not focus on scoring as much, be more a defensive guy, go out and run the floor, block shots, be active jumping," said Giles. He committed 44 fouls in 174 total minutes last season.
"Sometimes I do foul. I've been working on walling up (going straight up without fouling) and moving my feet a lot more on defense.
"My first year, all I was worried about was blocking shots. Those will come."
Giles - he still wants to put on about five more pounds before the start of the 2005-06 season - is feeling healthy for the first time in a long time.
He wore a boot on his right foot much of last season.
"I played through it," Giles said of stress fracture-like symptoms. "It was so sore, I wouldn't have been able to play another season on it. I just didn't walk on it a while after the season ended, and it eventually got better."
A healthy and improved Giles is pivotal if KU is to emerge as a Big 12 Conference contender in its first season without Wayne Simien, Aaron Miles, Keith Langford and Michael Lee.
"I think it'll be a good learning experience," Giles said of the coming season. "We're going to be real athletic. We're going to run a lot more. We might even have a lot more highlights."
KU soph Russell Robinson says Giles making the trials is a personal highlight for the Seattle big man.
"That's great for him and great for our team, too. It will give him a chance to compete at a different level and gain some experience. It's an accomplishment," Robinson said.
¢ Simien's latest workout: Former KU player Wayne Simien took part in an intense workout in front of New Jersey Nets officials Monday. Simien battled in drills with fellow power forwards Hakim Warrick (Syracuse), Charlie Villanueva (UConn) and La Salle's Steve Smith.
"It was a heavyweight fight," said Nets' general manager Ed Stefanski. "If you're a basketball purist, you've got to love it, because they really went at it today."
The team is hoping to take one of those four players with the No. 15 pick in the NBA Draft.
The Bergen (N.J.) Record indicated Warrick and Villanueva highlighted the workouts.
"Any one of the guys would add quality depth to our team," Stefanski said.
¢ Camp game: KU coach Self on Tuesday wouldn't reveal which former Jayhawks would be on hand for today's alumni vs. the current KU players camp game, starting about 3 p.m. at Horejsi Center.
"It could be the best veteran lineup ever assembled, the best alumni team assembled," Self said with a grin. The hope is a handful of KU alumni now in the NBA will be on hand.
¢ Maui seedings: ESPN.com's Andy Katz believes KU will be seeded fifth at the EA Sports Maui Invitational to be played Nov. 21-23 in Maui. His current projections have UConn seeded No. 1 followed by Michigan State, Gonzaga, Arizona, KU, Maryland, Arkansas and Chaminade.
If those projections hold, KU would play Arizona in the first round then play either UConn or Chaminade in round two.