C.J. Henry has made big plans for Day One of the big-league baseball draft.
"I'm going to paint the house with my mom to get my mind off it," Henry said with a laugh.
The 6-foot-3, 200-pound baseball/basketball standout from Putnam City High in suburban Oklahoma City would prefer to paint the walls than nervously climb them while awaiting his fate in the 50-round draft, which will start at noon and run until 5 p.m. today, then continue again Wednesday.
"There's no guarantee I'll be taken high," said Henry, who Baseball America predicts will be selected in the first round - 17th overall - by the New York Yankees.
"I could drop to round 10 or something," added Henry, who has committed to play basketball at Kansas University if the draft doesn't pan out. "If something crazy happens like that, I'd probably definitely go to college."
Henry has heard encouraging words from scouts and his adviser. If, as expected, he's tapped in rounds 1-3, he'll be certain to land a lucrative signing bonus.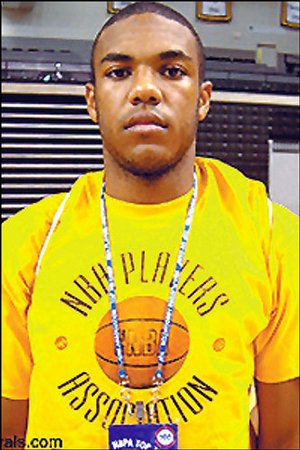 "I'd love to play basketball, too, but baseball is giving me an opportunity to go pro right now, to get started on my career early," said Henry, who has worked out for 20 teams. Of that batch, the Yankees, Cincinnati Reds (12th pick), Texas Rangers (19) and Florida Marlins (22) have shown the most interest.
"If I signed for a low amount of money or little under slot money, they might let me play basketball," Henry added of front office executives of the team that selects him, "but I am thinking that will not happen."
ESPN's Peter Gammons has listed Henry as one of the top four high school outfielders available in the draft, which will not be televised.
First round draft order 1. Arizona Diamondbacks. 2. Kansas City Royals. 3. Seattle Mariners. 4. Washington Nationals. 5. Milwaukee Brewers. 6. Toronto Blue Jays. 7. Colorado Rockies. 8. Tampa Bay Devil Rays. 9. New York Mets. 10. Detroit Tigers. 11. Pittsburgh Pirates. 12. Cincinnati Reds. 13. Baltimore Orioles. 14. Cleveland Indians. 15. Chicago White Sox. 16. Florida Marlins. 17. New York Yankees (from Phillies for Jon Lieber). 18. San Diego Padres. 19. Texas Rangers. 20. Chicago Cubs. 21. Oakland Athletics. 22. Florida Marlins (from Giants for Armando Benitez). 23. Boston Red Sox (from Angels for Orlando Cabrera). 24. Houston Astros. 25. Minnesota Twins. 26. Boston Red Sox (from Dodgers for Derek Lowe). 27. Atlanta Braves. 28. St. Louis Cardinals (from Red Sox for Edgar Renteria). 29. Florida Marlins (from Yankees for Carl Pavano). 30. St. Louis Cardinals.
"People say different things about me. I've heard (comparisons to) Vernon Wells. I don't see that. He's strictly an outfielder," said Henry, who hit .481 with 13 homers and 51 RBIs his senior season after averaging 22 points a game in basketball. "I've also heard (Gary) Sheffield, A-Rod (Alex Rodriguez), Derek Jeter, too."
Like those "five-tool" players, Henry can run, throw, hit for average, hit for power and field. He also can shoot the rock in basketball, something he conceivably still could do at KU.
"Coach Self knows about the draft and stuff. He called me and told me best of luck," Henry said of KU coach Bill Self. "He knows baseball is what's happening for me now. He is just being supportive."
Henry needs support. He has been growing mighty anxious the past couple of days.
"Yes, I'm excited. I can't be too worried about it because anything can happen," Henry said. "I might not go early. I will not set myself up for disappointment. I mean, teams tell you things, and I think I'll go in the first couple of rounds, but something could happen, and I could fall. Some teams pick strictly college players, others pick high school, so you never know until the draft. I think it could go either way."