What was shaping up to be a sticky situation ended as an admirable tribute to two greats.
When Kansas University was designing its 2005 football media guide, upcoming uniform and color changes weren't finalized until after the publication was sent to press in early July, making obsolete a past photograph of a Jayhawk in navy garb.
So KU went old-school, putting John Hadl and Gale Sayers on the cover along with a picture of the new Jayhawk helmet.
"They're two great figures in the history of KU football," KU coach Mark Mangino said last week at Big 12 Conference media days in Houston, "coupled with the fact we changed our uniform color and design, we couldn't put a (new) picture on there."
The back cover has a clearer shot of Sayers without a helmet and a larger shot of Hadl. The inside back cover shows KU's five captains for 2005 -- Kevin Kane, Charles Gordon, Nick Reid, Banks Floodman and David Ochoa.
Like the rest of NCAA Division I-A, KU's media guide was, by rule, trimmed to 208 pages, down from 284 in 2004. Most other Big 12 schools have exactly 208 pages, too, though with the new regulations, some programs found more creative ways for their guides to stand out to recruits, who usually get a copy from every team targeting them.
Texas A&M;'s, for example, has a hard cover. Oklahoma's has a hologram on its cover, showing two different images. And Texas' has pages that fold out, squeezing in a bit more information to woo prospects.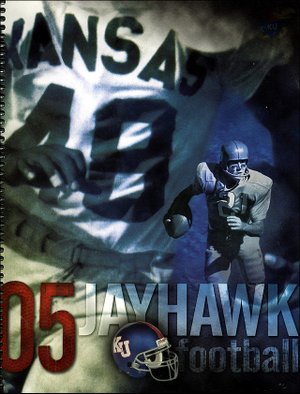 So do such ploys work on recruits, or are the media guides even read once they're mailed out?
"Most of them, I just stacked in a corner," KU offensive guard David Ochoa said. "Those things, you get so many. They send 20 to 30 media guides. I think it's more of a token gesture. You appreciate the fact they send it to you, but you don't get a media guide in the mail and say 'Oooh, I like the cover, so I'm going to go there.'"
¢ KU adds foe: Northwestern State, a Division I-AA team from Natchitoches, La., has been added to KU's 2006 nonconference football schedule, according to the NSU Web site.
Now that a 12th game is permissible and a I-AA victory can count toward bowl consideration every year, KU is planning to schedule a I-AA foe annually for the next few years.
For 2006, KU also has a home game with Florida International, as well as a game at Toledo. The Northwestern State game is expected to be the 2006 season opener, which likely will be Sept. 2.
NSU leads all of Division I-AA with nine victories over I-A foes in the program's history.
¢ Dates to remember: Though no exact time has been set, KU is planning to hold its annual fan appreciation day Aug. 24, likely in the early evening at Memorial Stadium.
Fans will be able to watch practice from the stands, and after practice selected Jayhawks will sign autographs and meet and greet with Jayhawk boosters.
Also, KU is tentatively planning to unveil its new uniforms at its media day Aug. 11.
¢ Mag lauds KU: Phil Steele's college football preview magazine hit the stands this summer, and KU was praised in its wealth of information on all 119 Division I-A teams.
Steele ranked KU's linebacker fleet the 15th-best in college football, and the defensive backs the 18th-best. Only Colorado had higher-ranked units in the Big 12 North.
Also, junior Charles Gordon was ranked the sixth-best cornerback in the country and a third-team preseason All-American. Senior Nick Reid was named 18th-best outside linebacker in the nation, and linebacker Kevin Kane was considered the 51st-best inside linebacker in college football.
Offensively, junior Bob Whitaker was ranked 55th among offensive guards, senior Clark Green was 42nd among running backs, and senior Mark Simmons was 63rd among wide receivers.