J.R. Giddens is no longer a Jayhawk, KU basketball coach Bill Self announced Thursday.
"We met last night and came to the conclusion that it's in his best interest and in our best interest that we part ways and go in different directions," Self said during a noon news conference at the athletic department.
Giddens, 20, had been on shaky ground since being stabbed during a May 19 brawl outside the Moon Bar, 821 Iowa.
The incident, Self said, had put the basketball program under a "dark cloud."
Giddens did not attend the press conference. In a written statement supplied by KU, he said: "I'm sorry this transpired. Regardless of guilt or innocence, I put our program and myself in a bad situation."
Giddens added that this "does not take away from the fact that I loved my time here. I appreciate the support my teammates, the coaching staff and the fans have shown me."
Asked whether he had lifted an earlier ban on Giddens meeting with reporters, Self replied: "I don't coach J.R. anymore."
Self insisted Giddens' leaving the team was not a punishment for the Moon Bar incident.
"This (decision) is based on J.R. and I wanting a fresh start," Self said. "There is no disciplinary action coming out of this today. This is about J.R. and me."
Charges possible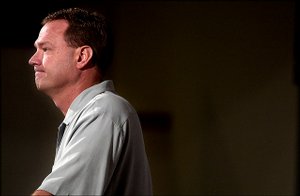 Though his KU career is over, Giddens isn't entirely free of fallout from the fight.
Lawrence Police completed their investigation of the fight June 16. Douglas County Dist. Atty. Charles Branson said Thursday that he had asked police to gather additional information before he decided what -- if any -- charges to file in the case.
Asked whether Giddens had been called in for additional questioning, Branson replied: "We've asked for some follow-up information, that's all. I can't say whether it involved (Giddens) or not."
Branson said he expects to decide whether to file charges within two weeks.
Giddens was one of five men stabbed outside the Moon Bar.
Jeremiah Creswell, 24, has said he stabbed the men in self-defense. Some witnesses have said Giddens started the fight. Others have insisted he did not.
Though several basketball and football players were in the Moon Bar the night of the fight, Self said he had not been able to determine Giddens' role in the melee.
"One thing about this," he said, "it's not been black and white. There's been a lot of gray."
Reader poll
It will make the team better not to have the distraction that Giddens had become.

54%

3162 votes

Little change - we lose the distraction, but also the points.

18%

1085 votes

It'll hurt. We lose scoring and an experienced player.

15%

891 votes

Who cares?

11%

642 votes
5780 total votes.
Fight accounts
According to a source familiar with Giddens' account of the stabbing, he was "sucker punched" by Creswell, while Giddens and KU teammate Jeff Hawkins "rough housed" inside the bar.
Creswell hit Giddens hard enough to leave a "knot" on his leg, the source said.
After a heated exchange, Creswell was thrown out of the bar around 12:45 a.m.
After the bar closed at 2 a.m., a fight between Creswell and several Moon Bar patrons broke out in the parking lot.
One of the victims, Marcus Knight, 30, said that shortly before the fight began he heard Creswell, who is white, use a racial epithet during an argument with four black men.
Knight said Giddens was in the parking lot and was yelling at Creswell. But, he said, Giddens was not one of the four men arguing with Creswell.
Knight said he and his cousin, Preston Patterson, 29, left the scene shortly after realizing each had been stabbed. Knight said he did not see Giddens take part in the brawl.
But seconds later, Giddens suffered a slashed artery in his right calf that required 23 stitches to close.
Criminal records
In an earlier interview with the Journal-World, Patterson said he saw Giddens and Creswell squaring off in the parking lot about 15 feet from each other. The two, he said, fought one-on-one.
Giddens has admitted to police he was drinking that night. Knight and Patterson also have said they were drinking.
Patterson was convicted of aggravated burglary in Douglas County in May 1996 and spent roughly eight years in state prisons in Winfield, Hutchinson and Norton. He currently is on parole.
Knight was convicted of attempted second-degree murder and criminal possession of a firearm in Douglas County in 1996. He, too, spent eight years in prison. He is no longer on parole.
Records show that in 2002 Creswell spent five months in the Labette Correctional Conservation Camp in Oswego and five months in the Shawnee County Jail.
Creswell was arrested June 12 in Olathe after threatening his uncle and mother with a steak knife. He remains in the Johnson County Adult Detention Center, unable to post $50,000 bond.
Creswell's criminal record includes aggravated battery and possession of cocaine with intent to sell. His juvenile record included an incident involving a firearm.
Johnson County prosecutors have said Creswell has ties to a gang in Topeka.
Branson said Creswell's troubles in Johnson County would not affect his decision on whether to file charges.
"That will have no bearing on our decision whatsoever," he said.