Wayne Simien envisioned a day just like Sunday when he decided to put his NBA dreams on hold one final year.
"This is what college basketball is all about. It's why I stayed my senior year, to be part of something like that," Simien, Kansas University's senior power forward, said after scoring a career-high 32 points in perhaps the greatest game of his four-year career -- an 81-79 victory over Oklahoma State in Allen Fieldhouse.
The victory, made possible by Simien's 11-of-17 shooting and 10-of-11 free throwing, gave the Jayhawks (21-4 overall, 11-3 Big 12 Conference) a one-game lead over the Cowboys (20-5, 10-4) in the Big 12 race with two games to play.
Was it Simien's best game at KU?
"You could argue that, since it was career-high points," Simien said. "More importantly, it's one of the best games we played as a team all year."
Simien also grabbed a game-high 12 rebounds and was the Jayhawks' emotional leader.
He waved his arms wildly to get the fans involved for the final key possession, which resulted in Oklahoma State's John Lucas missing a possible game-winning 23-footer with three seconds left.
Ivan McFarlin's stickback try also failed at the buzzer, and Simien raced around the court, his arms thrust in the air.
He and coach Bill Self embraced, their hands clutched together high over their heads right before they headed to the locker room.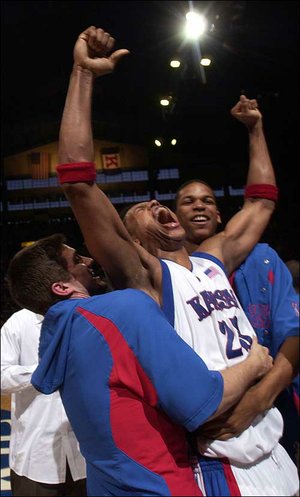 "I think emotionally it was (No. 1)," Simien said. "I'm not one to show much emotion on the court. It was extra-special today."
Simien scored 14 points the first half and 18 the second, making the most of his 34 minutes.
"Without question, people could make a case he was the best player in America today," Self said. "He did so many things. He battled hard. He was fabulous."
He surpassed his season high of 27 points set against Texas on Jan. 15 and passed his career high of 31 set against Missouri in last year's Big 12 tournament.
He did it on a grand stage, outscoring Oklahoma State's Big 12 player-of-the-year candidates Joey Graham, who had 19 points, and Lucas, who had 22.
"Wayne just made himself Big 12 player of the year today. It's all I can say about that," senior Keith Langford said after collecting 14 points and five assists in 34 minutes. "He is player of the year, hands down. We rode his back."
Simien scored four points in an 8-0 run that turned a 78-72 deficit (with 4:19 left) into an 80-78 lead at :40. The tie-breaking bucket was by Aaron Miles, who slid all the way to the goal for a layup, thanks to screens and sealing by Simien and Christian Moody.
"It was Wayne who got us over the hump," Langford said. "Wayne is our proven scorer. I think he could score if he had no arms."
Mainly, Simien was a presence Sunday for a KU team that entered doubting itself a bit after three straight defeats.
"I could tell he was emotional before the game," senior Michael Lee said. "It looked like he was crying, but it might have been sweat."
"Looking at Wayne, I was out there thinking, 'All we've got to do is get 'Dub' the ball. He'll do something good with it.' It's what happened," Moody said after scoring 11 points in 34 minutes. "I definitely think it was the best performance in one of the best games of the year. Coach said it was one of the best games ever played in the fieldhouse."
And it may have been enough to get Simien the coveted league player-of-the-year award.
"I think he helped his cause a lot today," Self said. "If Wayne plays well the last two games, he'll be tough to beat."
For his part, Simien isn't campaigning.
"I really don't know," he said, asked if he'd wrapped up the mantle. "We're a game ahead for conference team of the year. It's the most important thing right now."
Sunday's thriller went down to the wire.
JamesOn Curry hit one of two free throws following Miles' layup at :25.9, cutting the gap to 80-79.
Miles made one of two free throws at :19.9, setting the stage for OSU's final possession.
Lucas, who made his first nine shots and finished 9-for-11, stepped behind the arc, but missed from 23 feet at :04, taking the shot himself after the 'Pokes were unable to deliver the ball to Graham for a three.
Lucas' shot was well defended by Lee.
"Mike did a nice job. We said, 'No threes,' especially after what happened at Texas Tech," Self said, referring to the Jayhawks' loss to the Red Raiders on a late three. "It was right on line. From my vantage point, it looked good, just short."
32Career-high points by KU's Wayne Simien66.0KU's shooting percentage (31-for-47)58.5OSU's shooting percentage (31-for-53)
It looked good to Lee, too.
"I was guarding Graham," Lee said. "Lucas came off a screen, so I had to switch. I said, 'Don't let him go to the basket.' He's been great in those situations. He actually stepped back. I think they were trying to set up something that didn't work, and he figured he had to step back and make a shot. Luckily, it fell short."
It put the finishing touches on a crisp game in which KU outshot OSU 66 percent to 58.5. KU had 10 turnovers, OSU nine.
"I've never been part of a game," Self said, "where two teams competed harder, where the atmosphere was better, where it was greatly officiated.
"Both teams executed and shot it. It'd be hard to execute that well running dry offense. It was a remarkable basketball game. Nobody lost this game. We kind of stepped up, made some plays."
Self, in fact, said he never had been part of a better game.
"I've not been to that many games in the fieldhouse. I can't imagine there being a lot of games better than that today," Self said.
Neither can senior Simien.
"It's one of the best I've ever played in here," he said. "We played a championship game."
Next up is a Senior Night contest against Kansas State. Tipoff is 8 p.m. Wednesday at Allen Fieldhouse. The Jayhawks will conclude the regular season Sunday at Missouri.