Whoever wins Kansas University's quarterback job knows at the very least he can count on clutch senior Mark Simmons to be a solid target.
But Simmons, the Jayhawks' most lethal returning weapon at wide receiver, said he was certain KU's unproven wideouts were capable of becoming playmakers on their own.
"It's the most athleticism we've had at the receiver position since I've been here, and I think that we've got some guys that are going to make an immediate impact," said Simmons, the only Jayhawk wideout to have more than 10 career catches at the Division I-A level.
KU coach Mark Mangino agrees, saying that this year's new wide receivers have worked well under new receivers coach Tim Beck.
"I'm pleased with their progress. Those kids under Tim Beck are understanding the total-player concept at wide receiver," Mangino said. "We're going to go through some growing pains.
"They might drop a couple of balls here and there or miss a block, but when it's all said and done, I think that's going to be a really good group for us."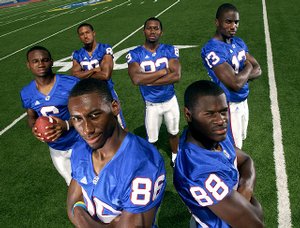 With the graduation of Brandon Rideau and Gary Heaggans, Simmons - who already ranks in KU's top 10 in receptions and touchdown receptions - is KU's clear leader at the position.
After him comes junior-college transfer Brian Murph, who made a splash early in his KU career when he caught seven balls for 110 yards and a score in April's spring game.
"I feel that I'm real comfortable with the offense already," said the 6-foot-1, 185-pound transfer from Butler County Community College who recorded 835 yards and eight touchdowns in addition to handling punt- and kickoff-return duties for the Grizzlies, who made it to the NJCAA national-championship game.
"I think we're going to do great things on the offense this year," Murph said.
Mangino is hoping two other youngsters - sophomore Marcus Henry (6-4, 195) and red-shirt freshman Marcus Herford (6-3, 210) - will make their marks in Kansas' vertical game.
"Marcus Henry is doing well," Mangino said about the Lawton, Okla., native who played in 10 games last year. "He was one of the top performers in the summer program in terms of putting the numbers up in the weight room, improving his speed and improving his agility.
"I think as he matures, he's going to have a heck of a career here and have a big factor in our offense this season."
Herford, who came to Kansas as a quarterback and earned the Otto Schnellbacher Award for offensive scout-team player of the year last season, also is expected to produce some highlights.
"He's starting to learn the little nuances that are important to running pass routes and getting leverage on defenders," Mangino said. "We're hoping that he'll be ready to make a major contribution. He's certainly on that path."
Sophomore tight end Derek Fine (6-3, 240) looks to replace Lyonel Anderson - who is still in the Cincinnati Bengals camp - but is being pushed by a pair of true freshmen in Russell Brorsen (6-4, 235) and Josh Bell (6-7, 250).
Add receivers Dexton Fields (6-0, 180), Dominic Roux (5-11, 175), Jonathan Lamb (6-2, 190) and Jeff Foster (6-2, 195), and there should be several potential weapons in Kansas' aerial arsenal.
And, of course, there is the X-factor - Charles Gordon.
Mangino hinted at his team's media day that he wanted his ballyhooed junior to see more playing time at offense this season.
If that's the case, Gordon brings the same skills that allowed him to become a freshman All-America wide receiver by the Sporting News when he set KU freshman records with 769 receiving yards on 57 receptions.
"I'm probably a little biased, but I think he's a bit better at receiver," Simmons said of his good friend Gordon. "He definitely can make us explosive."