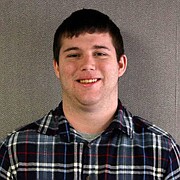 Shane is a sports writer for the Lawrence Journal-World and KUsports.com and one of the hardest working people we have on staff.
After working for the Journal-World in a part-time capacity during his college days at KU, Jackson returned to the paper after covering prep sports and K-State for the Manhattan Mercury.
In addition to helping out with all of our KU coverage, Jackson is in complete control of our coverage of the high school sports scene in and around Lawrence, writing stories, covering games, organizing freelance writers and photographers and keeping track of the schedule of the dozens of prep teams in the area.
A former 8-man football star in small town Kansas, Jackson has a real appreciation for all high school athletes and enjoys telling their stories, from the star of the team to the less heralded players living outside of the spotlight.
Jackson, a diehard fan of the Baltimore Ravens, lives in Lawrence and plays golf whenever he possibly can.
Recent Stories