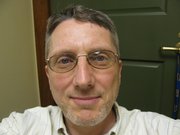 I cover the state Legislature, government and politics.
I have been a reporter in Kansas since 1998, and prior to that covered news in Texas for various papers and later for The Associated Press.
For two of the past three years, I have been awarded first place in beat reporting from Capitolbeat, an association of Statehouse reporters and editors. I live in Topeka with my wife and two teenage sons.

You can follow me on Twitter, where I try to provide instant updates on news and what's going on in the Statehouse.
Recent Stories