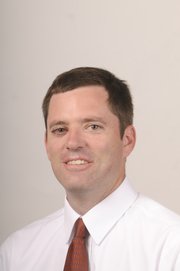 I've been a reporter and editor at the Journal-World since 1992, and have been turning stories and other content for LJWorld.com since before media convergence was considered cool.
While I now concentrate on transportation news, I've been known to dip into matters ranging from business to bioscience to Kansas University basketball.
For a story, I once drove a former Winston Cup car for 10 laps around Kansas Speedway, apparently at speeds reaching 165 mph (that's what they told me; the car had no speedometer, not that I would have chanced looking at it anyway).
I say roundabouts make sense both on paper and in practice, although I have many friends who constantly try to convince me otherwise. And bacon is the greatest meat on Earth.
I also drive a Honda Odyssey minivan, and am darned happy about that — I figure its well earned family-wagon appearance has helped me avoid at least a few tickets, compared with the citation-magnet red Civic I used to drive.
Recent Stories