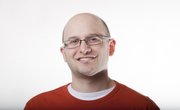 I've been working at the Journal-World since February 2008 as a sports copy editor. I also keep the Conference Chatter blog, which follows features and trends in the Big 12, on KUSports.com.
My previous jobs were sports editor of The Mirror in Tonganoxie, part-time sports writer for the Journal-World and sports editor of the University Daily Kansan. I graduated from KU's William Allen White School of Journalism in 2006.
The Texas state flag in my place is sort of a giveaway of where I grew up. I graduated from Plano West Senior High School in 2002. I also previously lived in Coral Springs, Fla. and was born in Poughkeepsie, N.Y.
I think the worst sports argument ever is that the best college football team could beat the worst NFL squad. My favorite sports movie is Bull Durham. Favorite movie is Back to the Future.
In my spare time, I like to watch the Texas Rangers and Dallas Mavericks, who have spoiled me lately with incredible seasons. I drove 7.5 hours from Lawrence to North Dallas in June 2011 to watch the Mavericks win the NBA championship. Best last-minute road trip ever.
I also enjoy popping threes in Journal-World pick-up games and listening to music. Some of my favorite bands include Avenged Sevenfold, Metallica, Fair to Midland, Sevendust, AFI, Breaking Benjamin and Queen.
You can follow me on Twitter (username: Big12_Spotlight), where I'm updating my page with all things Big 12-related.
Recent Stories