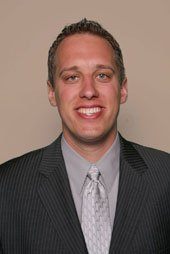 I have always loved sports, and I realized I wanted to be a sports journalist at about the same time I realized I would never be a professional athlete -- in high school. I can't run or jump, but I can write and speak. So, I decided to write and speak about people who can run and jump.
I was born in Lodi, California (little town south of Sacramento), but lived in six different cities around the U.S. before finally moving to Overland Park before High School. I will forever consider Lawrence my true hometown. The seven years I lived in the River City make it the most permanent residence of my lifetime. It's home to my Alma Mater, and it's where I met my amazing wife, Lori.
We were married at Trinity Lutheran Church just off Mass St. in April 2008. Lori and I met at the student TV station while hosting a sports talk show. West Shawnee is where we currently live. My wife works in Kansas City, so we bought our first house in a location that minimized the commute for both of us. I still miss living in Lawrence. We have a weimaraner named Wrigley (see paragraph about my love of the Cubs below) who monopolizes a lot of our time.
I graduated from the University of Kansas in 2005 with degrees in Broadcast Journalism and Political Science. My time at Channel 6 actually started a year earlier when I was hired part-time to help cover high school football. After graduation, I was offered the weekend sports anchor position, and two months later I filled the open 10 p.m. sports anchor job. I continue in that role today, while also hosting The Drive, and doing play-by-play for the Hy-Vee High School Game of the Week.
While working at Channel 6, I have covered four NCAA Basketball Tournaments, three college football bowl games, and nearly a dozen state titles for our area high schools. Obviously, the early part of 2008 stands out as the most memorable time in my journalism career. Covering an Orange Bowl and a National Title run in a three month span is an experience I will never forget.
I also keep busy away from work. I am a below average golfer, a certified scuba diver, an amateur dog trainer, a Lutheran churchgoer, a State Champion high school debater, an award-winning chili cook, the best first baseman co-ed softball has ever seen, and the most bitter Cubs fan of all-time. Other than the KU, I follow all sports Chicago (minus the White Sox). Since I was devoid of a hometown until college, I claim the Second City because it's where my father and grandfather grew up. The Cubs are my true sports passion, and despite my skepticism, I live by the mantra, "It's Gonna Happen."
Recent Stories