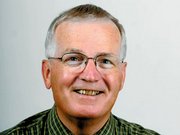 Chuck was born and raised in Kansas City, Mo., so long ago his high school (Southwest) is defunct. He attended Kansas City, Mo., Junior College (also defunct) for two years, earning an associate of arts degree. Then he transferred to Missouri University where he added a bachelor of journalism degree to his resume.
"I have lived in Lawrence for 40 years," Chuck said, "and no one ever lets me forget I went to MU, even though I spent just two years of my life there."
After leaving Mizzou, Chuck spent six months in the U.S. Army before becoming a general assignment reporter for the Hutchinson News. After less than a year, he switched to sports writing. Later Chuck moved to the Lincoln (Neb.) Journal before becoming sports editor of the Journal-World in the fall of 1968, a job he held for nearly 37 years.
Chuck, who is officially semi-retired, pens a weekly column, covers various events and performs a variety of office tasks. He and his wife Carolyn, a retired kindergarten teacher, have two daughters and two grandchildren.
In his spare time, Chuck works crossword puzzles, travels and volunteers.
Recent Stories