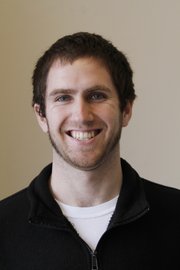 I was born and raised in Overland Park as the only child of Glen and Hilary Duderstadt.
After graduating from Shawnee Mission West High School in 2009, I attended Baker University. I ran cross country and track for four years at Baker, and joined Delta Tau Delta fraternity.
While running and joining a fraternity required a lot of time commitment, the bulk of my schedule revolved around my work with the Baker Orange newspaper. I was the sports editor of the Baker Orange for my sophomore and junior years before becoming the editor-in-chief as a senior. I reported on every sport Baker had to offer with the exception of cross country and track since I competed in them.
I graduated from Baker in May of 2013 with a degree in mass media, and moved to Orlando the day after to begin an internship with the Sanford River Rats of Florida Collegiate Summer Baseball League. At the conclusion of the Florida League season in August, I was named the FCSL Journalist of the Year at Tropicana Field, home of Major League Baseball's Tampa Bay Rays.
I have stayed true to my Kansas City roots as a fan of the Royals, Chiefs and Sporting KC. Although Sporting KC has been the only one of the three to have any postseason success during my 23 years of life, my fingers are crossed for the Royals to finally earn a playoff berth and for the Chiefs to pull out their first postseason win since I was 2.
Along with working as a part-time copy editor at the sports desk, I also help out with reporting assignments as needed. I am also the house director at Delta Tau Delta at Baker and plan to help out with the BU cross country and track teams as my time allows it this year.
Recent Stories