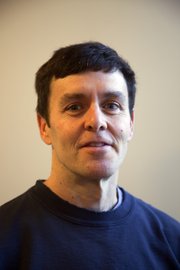 Andrew was born and reared in Overland Park, but he has lived most of his life in Lawrence.
Andrew put himself through Kansas University by sacrificing nights and weekends to a part-time job as a sports writer at the Journal-World. After five years of KU toil, he was offered a full-time gig at the J-W, and it proved to be an offer he couldn't refuse.
In his two-plus decades of Journal-World servitude, Andrew has covered everything from preps to pros, from archery to wrestling.
He currently is associate sports editor, a fancy title meaning he can sacrifice his nights and weekends to help produce the Journal-World sports section. He also regularly writes a blog on the joys and challenges of commuting by bike called Rolling Along.
Andrew and his wife, Janice, have two children, Carlyn and Brooks.
Recent Stories