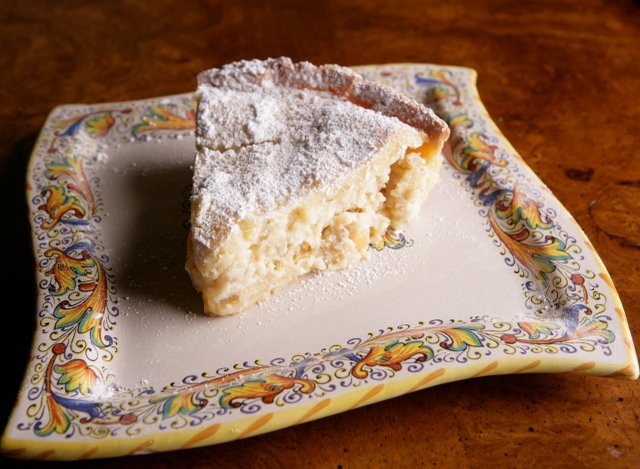 AUTHENTIC ITALIAN RECIPES with Christopher Renner
Ingredients
FOR THE GRAIN:
1 15-ounce can cooked wheat (available from some Italian markets) or, 200 grams (about 1 cup) soaked hulled wheat berries, preferably soft wheat
enough milk to cover the wheat in a saucepan
zest of 1 orange
1 tsp sugar
pinch of salt
1 tsp vanilla extract
DOUGH:
400 g flour (2 2/3 cup)
200 g sugar (1 cup)
200 g butter (1/2 cup plus 5 tablespoons)
FILLING:
2 eggs plus 1 egg yoke
170 g sugar (3/4 cup)
240 g ricotta (1 cup)
1 to 3 tbl orange water, to taste
½ cup candied citron, very finely chopped
½ cup candied orange peel, very finely chopped
1 tsp ground cinnamon (optional)
confectioner's sugar
Instructions
If using wheat berries, place them in a large bowl, add cold water to cover and let soak overnight in the refrigerator. Drain the wheat.
Place the soaked wheat berries (or the canned cooked wheat) in a medium saucepan and cover with milk. Add the orange zest, sugar, salt and vanilla and bring to a simmer over medium-low heat. Cook, stirring occasionally, until the wheat is tender and cracked open, 20 to 30 minutes. (Cook canned wheat for about 10 minutes, until creamy.) Pour the mixture into a large bowl to cool.
Dough: Combine the flour and sugar in a bowl. Pour the mixture into a food processor, or mixer with a dough hook (or in a bowl to mix by hand). Blend in the butter and egg yokes and let the processor or mixer knead the dough briefly (or knead by hand) just until the mixture is combined and can be shaped. Shape one-quarter of the dough into a disk. Make a second disk with the remaining dough. Wrap each piece in plastic wrap and chill for 30 minutes to 1 hour.
Filling: In a mixing bowl, beat the eggs and egg yolk with the sugar using a mixer or a wire whisk. Blend in the ricotta, orange water, candied fruit and cinnamon (optional). Add the cooked grain last and mix well.
Place the rack in the lower third of the oven. Preheat the oven to 350 degrees. Grease and flour a 9 x 3-inch springform pan.
Roll out the larger piece of chilled dough to a 16-inch circle. Drape the dough over the rolling pin. Using the pin to lift it, fit the dough into the pan, pressing out any wrinkles against the inside of the pan. Scrape the filling onto the dough and smooth the top.
Roll out the smaller piece of dough to a 10-inch circle. With a fluted pastry cutter, cut the dough into 1/2-inch-wide strips. Lay the strips across the filling in a lattice pattern. Press the ends of the strips against the dough on the sides of the pan. Trim the dough, leaving 1/2 inch of excess all around the rim, and fold the edge of the crust over the ends of the lattice strips. Press firmly to seal.
Bake 1 hour and 10 minutes, or until the cake is golden brown on top and a toothpick inserted in the center comes out clean. (It shouldn't be watery.)
Let the cake cool in the pan on a baking rack 15 minutes. Remove the pan ring and let the cake cool completely on the rack. Just before serving, sprinkle with confectioner's sugar. Cover and store in the refrigerator up to 5 days. Serves 12.
Recipes by Christopher Renner.
Photos


Added Tuesday, March 30, 2010