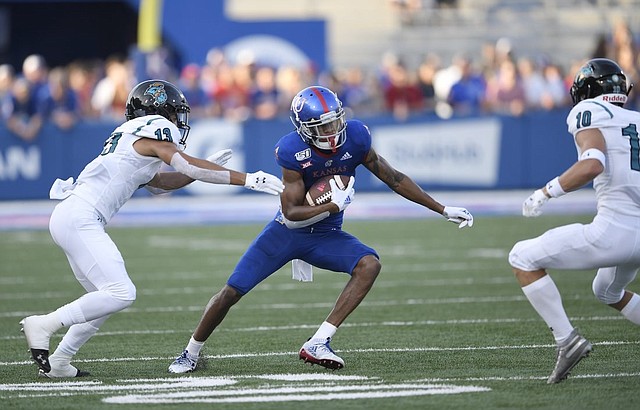 Kansas running back Pooka Williams Jr. tries to find an opening against Coastal Carolina Saturday night at David Booth Kansas Memorial Stadium on Sept. 7, 2019.
Stories this photo appears in:

The last time these two teams met, just a year ago in Lawrence, the Kansas offense underwhelmed. The play-calling was uninventive and the Jayhawks rarely spread the field to play to the strengths of their best athletes.

A Wednesday report from The Southern Illinoisan indicated that the Kansas football program will host Coastal Carolina on Sept. 12 in the Jayhawks' lone nonconference game of 2020. By Matt Tait

Pooka Williams had more to discuss on Saturday night than the first game of his sophomore season with the Kansas football program. By Benton Smith