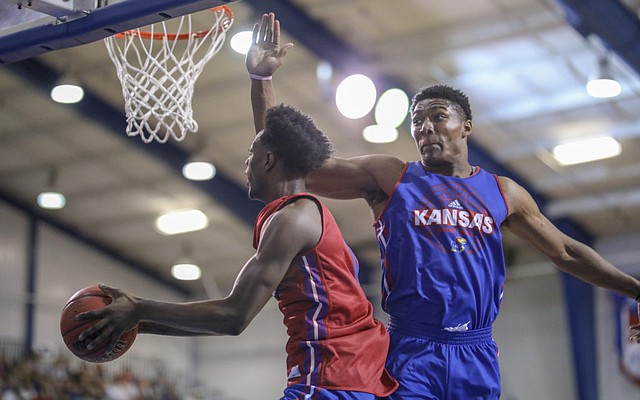 Red Team guard Marcus Garrett dips under Blue Team center David McCormack for a bucket during a scrimmage on Wednesday, June 13, 2018, at the Horejsi Family Athletics Center.
Stories this photo appears in:

Every so often, an athlete so obviously lacks a particular skill to such a degree that the image of his or her deficiency can color a fan's nightmares. In some cases, that very same athlete is a coach's dream.

The first time he saw him play, Kansas coach Bill Self saw something he liked in freshman forward David McCormack. But that was more than 60 pounds ago, when McCormack, the 6-foot-10, 265-pound forward from Oak Hill Academy, weighed well over 300 pounds and used his massive body to bully opponents near the basket. Today, things are a little different. By Matt Tait