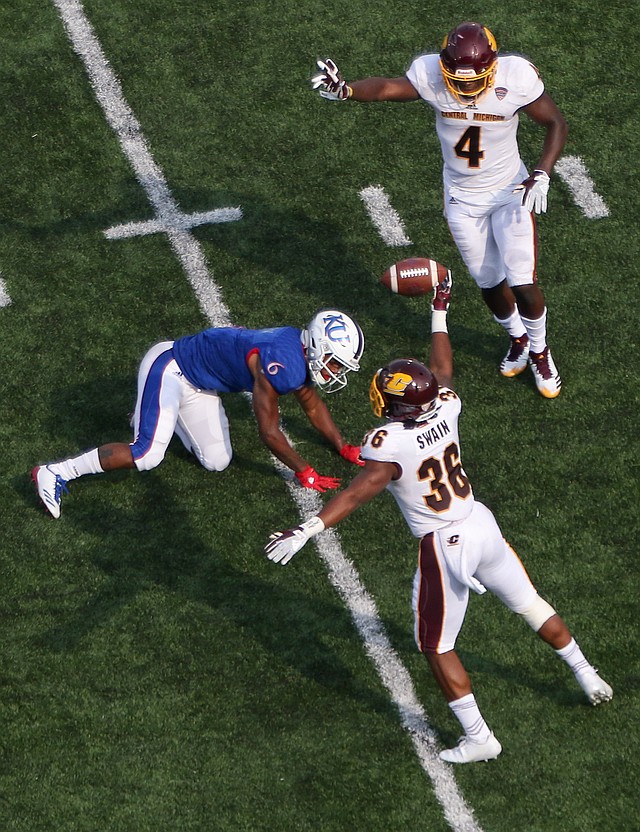 Central Michigan defensive back Tyjuan Swain rips the ball away from Kansas receiver Quan Hampton for an interception on Saturday at Memorial Stadium.
Stories this photo appears in:

Long before he made his debut as a head coach, David Beaty talked about how Kansas needs to become the smartest football team in the country. By that, he largely meant becoming a team that consistently wins the turnover battle.

Earlier this week, when Kansas football coach David Beaty began watching video of the Jayhawks' next opponent, the footage seemed strangely familiar — and not just because KU faced Ohio at Memorial Stadium in 2016. As Beaty caught himself up on how the Bobcats' trip to Purdue played out, he saw Ohio's fortunes take a turn for the worst in a fashion comparable to KU's turning point against Central Michigan. By Benton Smith

Central Michigan came to Lawrence to give a Kansas football program in the midst of yet another rebuilding project a test it absolutely had to pass in order to be taken seriously. A suspicious public needed convincing that the upset of Texas last November was a turning point and not a one-week blast with the shelf life of a loaf of bread. By Tom Keegan