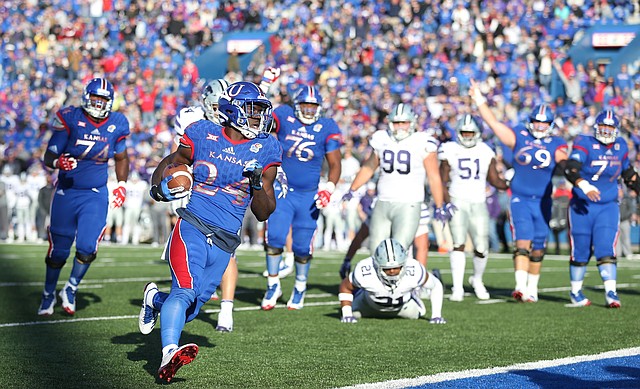 Kansas running back Taylor Martin (24) runs in a touchdown during the fourth quarter on Saturday, Oct. 28, 2017 at Memorial Stadium.
Stories this photo appears in:

The Kansas football program published its 2018 media guide just in time for this week's Big 12 Media Days, in Frisco, Texas. The unveil revealed the departure of some Jayhawks who were still with the program as recently as the spring semester.

Offense rebounds with center's return
Redshirt sophomore center Mesa Ribordy isn't the type of football player to tout his own performance or boast about how much he means to the Kansas offense. Don't worry. His teammates and coaches will. By Benton Smith

After two weeks of offensive ineptitude in back-to-back shutouts on the road, Kansas witnessed the benefit of playing with its starting center, redshirt sophomore Mesa Ribordy, once again Saturday versus Kansas State. By Benton Smith