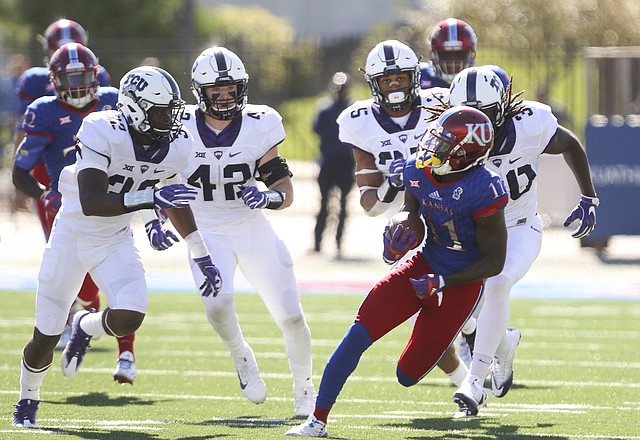 Kansas wide receiver Steven Sims Jr. (11) tears down the field as he is trailed by the TCU defense after a catch during the first quarter on Saturday, Oct. 8, 2016 at Memorial Stadium.
Stories this photo appears in:

Among all the words offensive coordinator Doug Meacham has used since accepting his position at Kansas to describe what type of weapon junior receiver Steven Sims Jr. can become in his Air Raid system, three stand tall above the rest. Makes. You. Miss. By Benton Smith

Ten games into his second year with Kansas football, Steven Sims Jr. examined the preseason goals he set for himself, compared them to his current statistics and reached a realization: he needs more goals. The sophomore receiver already checked 60 receptions, 700 yards and seven touchdowns off his to-do list, after a nine-catch effort and a touchdown this past weekend. By Benton Smith

After leading for most of the fourth quarter, the Kansas football team suffered a 24-23 loss against TCU on Saturday at Memorial Stadium when TCU junior kicker Brandon Hatfield made a 37-yard field goal with 1:21 left.
By J-W Staff Report
October 8, 2016 2:40 p.m.