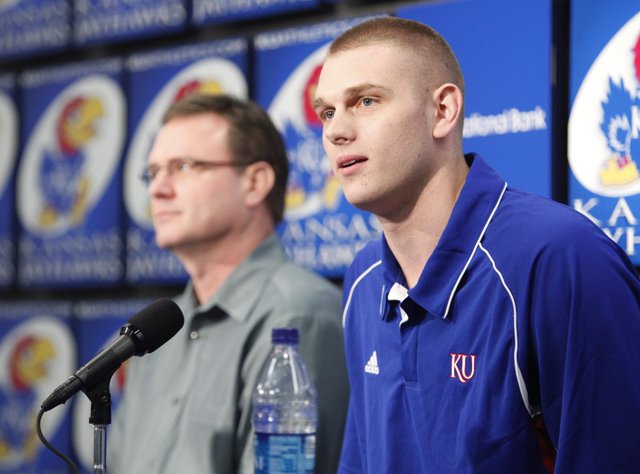 Kansas center Cole Aldrich declares his intention to enter the NBA draft alongside head coach Bill Self, Monday, March 29, 2010 at Allen Fieldhouse.
Stories this photo appears in:

Cole Aldrich to hold camp in Olathe
Former Kansas University basketball center Cole Aldrich of the Oklahoma City Thunder will hold a basketball camp for youths kindergarden through eighth grade from June 27-30 at Olathe Northwest High School. Aldrich will be assisted by former KU players Jeff Gueldner, Tyrel Reed and Mark Randall.

Self has heard good reports on Aldrich, Henry, Collins
Kansas University basketball coach Bill Self, who is well connected in NBA circles, has been briefed on KU's three entries in the 2010 NBA Draft.

Walt Aldrich was watching highlights of his son's news conference Monday afternoon in his home in Bloomington, Minn., when his beeper went off.