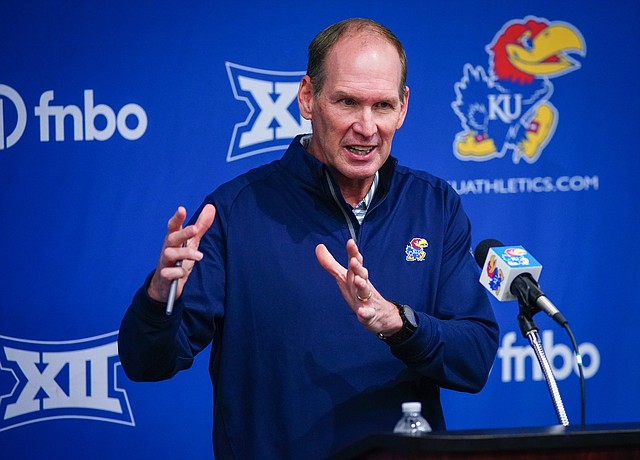 Head Football Coach Lance Leipold talks with media members on Tuesday, May 18, 2021 at the Anderson Family Football Complex.
Stories this photo appears in:

Back home in St. Augustine, Fla., over the Independence Day holiday weekend for a brief getaway from the grind of Kansas football's summer workouts, veteran defensive back Kenny Logan Jr. made sure to stay in touch with someone whom he met only a couple of months earlier. Sure, Logan was on vacation. But that didn't mean he was going to stop texting — or even FaceTiming — with head coach Lance Leipold.

In each of his 14 previous years as a head coach, Lance Leipold headed into his team's preseason camp with a wealth of knowledge about the program's personnel and a strong handle on what he and his staff could expect from most of the players once practices began. Leipold's first summer in charge of the Kansas football program brings with it an entirely different set of circumstances.