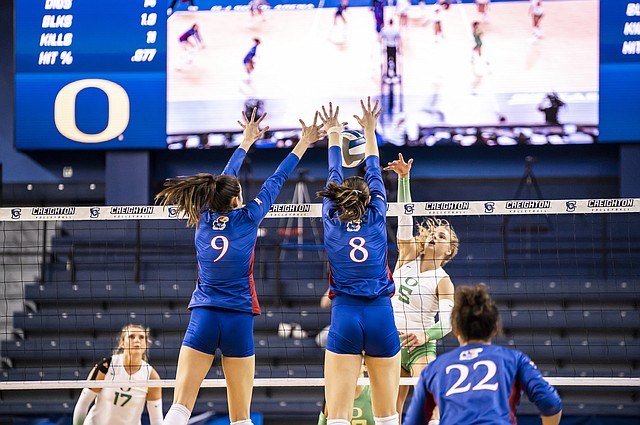 Kansas volleyball's Caroline Crawford and Anezka Szabo extend their arms above the net to go after a block, during the Jayhawks' NCAA Tournament matchup with Oregon, on Dec. 2, 2021, in Omaha, Neb.
Stories this photo appears in:

It was only a few years ago that Maggie Bowen was in a Kansas volleyball uniform, helping the Jayhawks make their best NCAA Tournament run in program history. Now in her fifth season on head coach Ray Bechard's staff as director of operations, Bowen is getting a different perspective on another postseason hot streak for KU.

Whatever pressure that is supposed to go hand in hand with playing in the NCAA Tournament was nearly nonexistent for the Kansas volleyball team Thursday, as the Jayhawks swept their way to the second round with a three-set upset victory over No. 19-ranked Oregon, in Omaha, Neb.