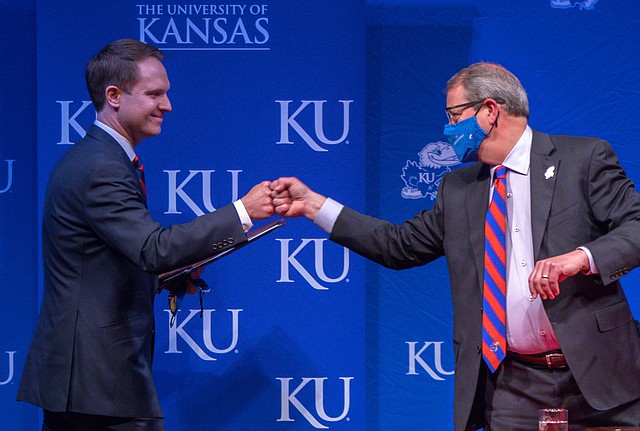 Travis Goff, a 2002 graduate of the University of Kansas and native of Dodge City, left, fist-bumps KU Chancellor Douglas Girod, right, on Wednesday, April 7, 2021, at the Lied Center on KU's west campus.
Stories this photo appears in:

One of the primary goals of first-year Kansas Athletic Director Travis Goff was to improve morale in the department during his first 12 months on the job. Now that he believes he's done that, Goff said the goal for Year 2, which is already a month old, is to further cement KU's culture and push the standard for Kansas Athletics higher. By Matt Tait

It was the first major hire of his career as an athletic director and it came with extraordinarily high stakes attached to it, but Kansas AD Travis Goff's approach to hiring Lance Leipold as KU's next football coach earned high praise from those he came in contact with along the way. By Matt Tait

While new University of Kansas Athletic Director Travis Goff has a strategy and some possible scenarios under consideration for the future of the KU football program, Goff described himself Wednesday as "open-minded" about the team's head coaching vacancy.