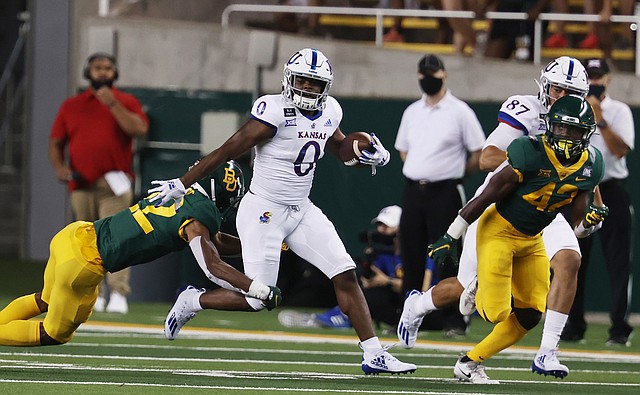 Kansas running back Velton Gardner slips past Baylor safety Jt Woods, left, in the first half of an NCAA college football game, Saturday, Sept. 25, 2020, in Waco, Texas. (Rod Aydelotte/Waco Tribune Herald, via AP)
Stories this photo appears in:

Multiple RBs expected to play factor
In the months since the University of Kansas hired Lance Leipold to lead its football program, veteran Jayhawks running back Velton Gardner doesn't mind revealing he has watched "almost all" of the video clips of former Buffalo rusher Jaret Patterson that he could get his hands on.

The Kansas football offense no longer boasts a playmaker as hyped as former standout rusher Pooka Williams. However, running backs coach Jonathan Wallace not only likes the depth the Jayhawks have within the position group he oversees, Wallace also thinks highly of the players' methods of going about their business.

Though Pooka Williams opting out of the remainder of the 2020 schedule may seem like a death knell to some, at least one person close to the program thinks the Jayhawks can manage the blow, because of the presence of Williams' backup, sophomore Velton Gardner.