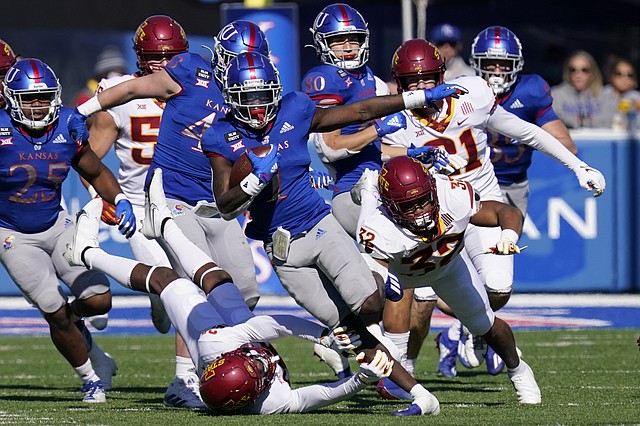 Kansas return specialist Kenny Logan Jr. (1) breaks away from Iowa State defenders Gerry Vaughn (32) and Vonzell Kelley III (29) for a 100-yard touchdown kickoff return during the second half of an NCAA college football game in Lawrence, Kan., Saturday, Oct. 31, 2020. (AP Photo/Orlin Wagner)

Stories this photo appears in:

Former Florida returner Brandon James proud of KU standout's approach
Brandon James was headed toward one of the open concession stands on the west concourse at David Booth Kansas Memorial Stadium on a Saturday afternoon this fall when he thought better of it. The public address announcer for KU football's home game against Iowa State had just said Kenny Logan Jr., James' younger brother, was back to receive an Iowa State kickoff. So James, a special teams star in his heyday, stopped in his tracks and turned around to see what his sibling and protégé had in store.

Though he leads the Kansas football defense with 50 total tackles and two interceptions, there are times sophomore Kenny Logan Jr. admits, when he gets an itch to play some offense.