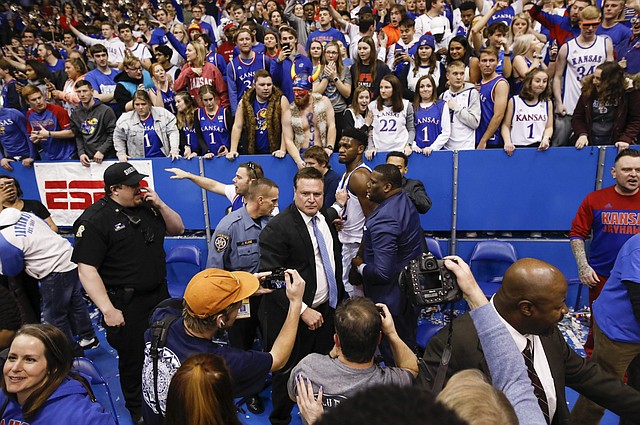 Kansas head coach Bill Self holds back Kansas forward Silvio De Sousa (22) following the Jayhawks' win against Kansas State, Tuesday, Jan. 21, 2020 at Allen Fieldhouse.
Stories this photo appears in:

After Tuesday night's basketball brawl, the University of Kansas student body president expressed concern over the pattern of "violence" surrounding the program and the Board of Regents chair suggested he would be discussing the matter with university CEOs.

After a day's worth of reviewing footage and contemplating, the Big 12 announced Wednesday evening suspensions for four players involved in the brawl that marred Tuesday's Sunflower Showdown between Kansas and Kansas State. KU junior Silvio De Sousa, the backup forward at the center of the ruckus, received the most severe punishment, as the conference suspended him for 12 games. By Benton Smith

Kansas forward Silvio De Sousa has been suspended from the team indefinitely for his role in Tuesday night's fight between the Kansas and Kansas State men's basketball programs. By Matt Tait
January 22, 2020 12:05 p.m.