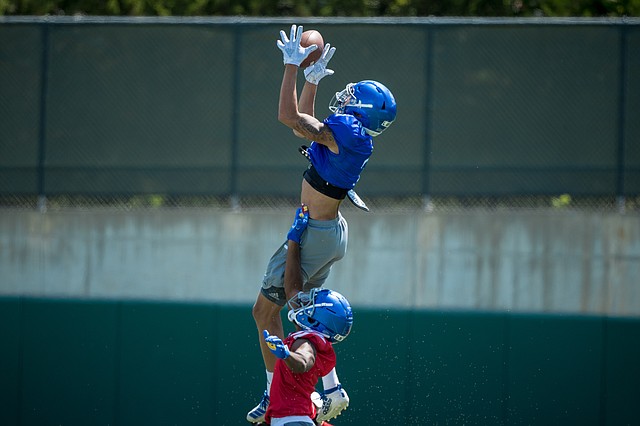 Kansas receiver Lawrence Arnold rises up for a catch during a preseason practice in August of 2020.
Stories this photo appears in:

Now entering his sixth season with the Kansas football program, super-senior Kwamie Lassiter II has seen plenty of receivers come and go through the years. During his interview session at Big 12 media days this week, the veteran leader told reporters what makes some of his current younger teammates stand out.

The hope leading up to the 2020 season was that Lawrence Arnold, even as a true freshman, would take on a complementary role within the Kansas football offense sooner rather than later. An injury to the young receiver, however, kept Arnold sidelined much of the schedule, hindering his chances of breaking through. Now with months of rehab for a surgically repaired shoulder behind him, Arnold said he feels "100%" this spring, as the 6-foot-3 wideout from DeSoto, Texas, looks to resume his track toward contributing.

It didn't take long for University of Kansas quarterbacks to discover an important trait in one of the offense's youngest receivers. After all, this particular talent possessed by freshman Lawrence Arnold helps the QBs look good, too. By Benton Smith