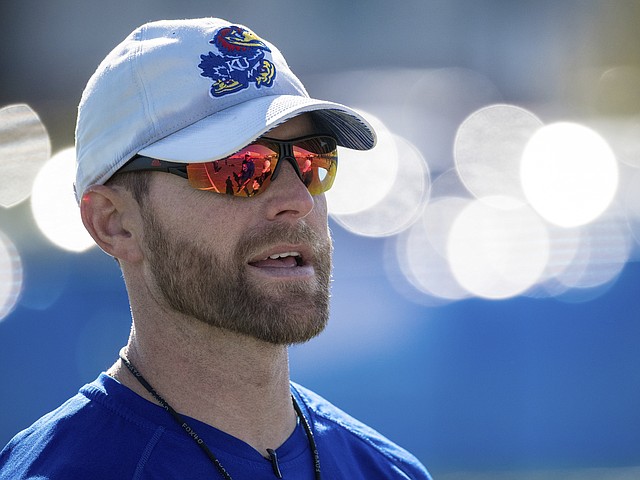 New Kansas offensive coordinator Brent Dearmon surveys the action during a recent KU football practice. Dearmon was promoted from offensive consultant to O.C. on Sunday, Oct. 6, 2019, and is the process of preparing for his first game in his new role.
Stories this photo appears in:

There won't be an abundance of Brent Dearmon buyout money available for Kansas football to use when it's paying the man Les Miles hired to replace his former offensive coordinator and quarterbacks coach.

The third offensive coordinator Les Miles has hired since taking over the Kansas football program in November of 2018, Brent Dearmon's contract could keep the recently promoted senior offensive consultant with the Jayhawks through the 2025 season. Dearmon's first two years — which include the remainder of this season, and all of the 2020 and 2021 seasons — are guaranteed and will pay him $250,000 each of those years. By Benton Smith

It takes about 10 seconds for anyone talking to him to get a feel for why the Kansas football players like new offensive coordinator Brent Dearmon so much. By Matt Tait