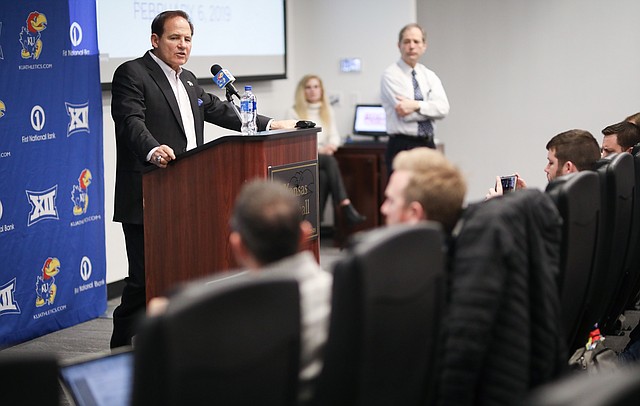 New Kansas head football coach Les Miles talks about his first recruiting class during his National Signing Day press conference on Wednesday, Feb. 6, 2019 in Mrkonic Auditorium.
Stories this photo appears in:

On the always fluid college football recruiting scene, nothing is official until a prospect signs his national letter of intent. Now, after months of work toward trying to get some new Jayhawks to enlist, Kansas head coach Les Miles and his staff should soon be able to rest a little easier. By Benton Smith

Even though the season opener is a little over three weeks away, Kansas football might have picked up one of its most significant wins of the year. Shane Jackson
August 6, 2019 10:33 p.m.

The first National Signing Day for Les Miles at the University of Kansas got off to an eventful start as the Jayhawks added another quarterback to their class.