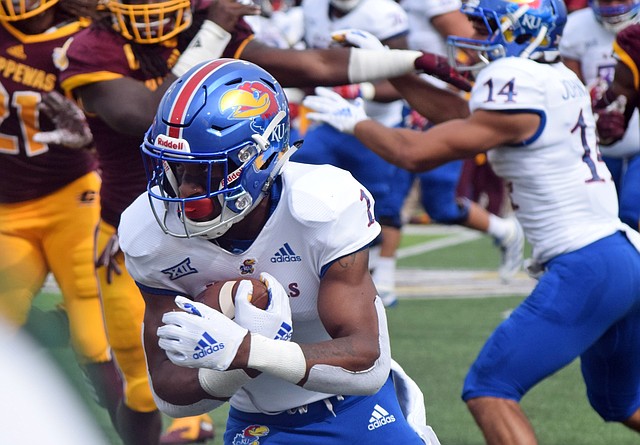 Kansas running back Pooka Williams Jr. carries the ball against Central Michigan during a game Saturday, Sept. 8, 2018, in Mount Pleasant, Mich. (Jim Lahde/The Morning Sun via AP)
Stories this photo appears in:

Yes, Kansas freshman running back Pooka Williams will play in the Jayhawks' home football game Saturday against Rutgers. But will Williams also play the following week at Baylor, and for the remainder of the schedule? By Benton Smith

Mount Pleasant, Mich. — Debuting Kansas freshman running back Anthony "Pooka" Williams killed more than a nine-year road losing streak late Saturday afternoon, so far from his hometown of Marrero, La.

One man and one result might not prove capable of changing a program's fortunes. But for one sunny Saturday afternoon at Kelly/Shorts Stadium the Kansas football team, losers of a major college football record 46 consecutive road losses, finally left an opponent's stadium victorious. And it seemed one new Jayhawk in particular deserved as much credit as any. By Benton Smith