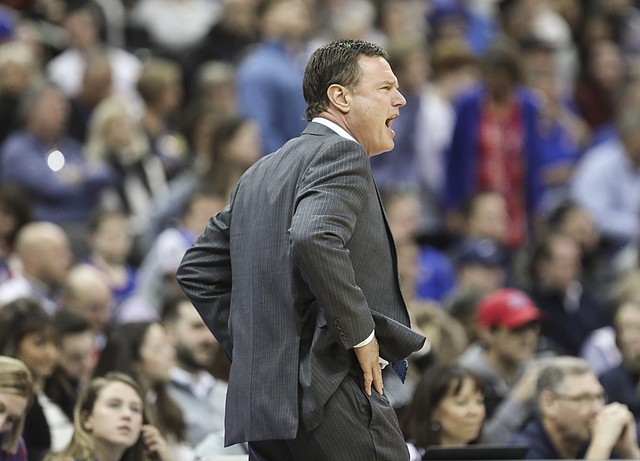 Kansas head coach Bill Self gets the attention of his players during the second half on Saturday, Dec. 8, 2018 at Sprint Center.
Stories this photo appears in:

With the fifth-ranked Kansas men's basketball team now less than a week away from the actual start of its run toward a 15th consecutive Big 12 Conference regular season title, the conference's list of true challengers has basically been divided right down the middle, with four teams looking like real threats, four teams currently struggling and one team — Kansas State — split down the middle as a sort of unknown because of an injury to star forward Dean Wade. By Matt Tait

Kansas City, Mo. — The gauntlet of good resumes continued Saturday night for the second-ranked Kansas men's basketball team, which survived a scare from New Mexico State, 63-60, at Sprint Center. The Aggies (7-2) were the sixth KU opponent already this season that ranked in the KenPom Top 100 (at No. 92), with only Vermont (114) and Louisiana (133) sitting outside of double digits in KenPom's rankings.