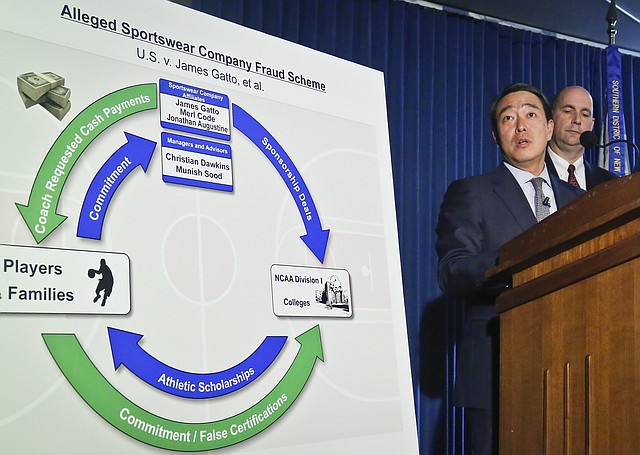 Acting U.S. Attorney for the Southern District of New York Joon H. Kim, second from right, and FBI Assistant Director William Sweeney, Jr., right, hold a press conference to announce the arrest of four assistant basketball coaches from Arizona, Auburn, the University of Southern California and Oklahoma State on federal corruption charges, Tuesday Sept. 26, 2017, in New York. (AP Photo/Bebeto Matthews)
Stories this photo appears in:

An unnamed source who has been briefed on the details of an FBI probe into corruption in college basketball told Yahoo Sports that far more than four assistant coaches arrested in September have cause for concern. By Matt Tait

University of Kansas officials are monitoring allegations against a high-level Adidas executive but have fielded no inquiries from federal investigators about a federal probe into college basketball recruiting practices, KU associate athletic director Jim Marchiony told the Journal-World Tuesday afternoon. By Matt Tait

In one of the biggest crackdowns on the corrupting role of money in college basketball, 10 men — including a top Adidas executive and four assistant coaches — were charged Tuesday with using bribes to influence star athletes' choice of schools, shoe sponsors, agents, financial advisers, even tailors.
By Associated Press
September 26, 2017 9:56 a.m.