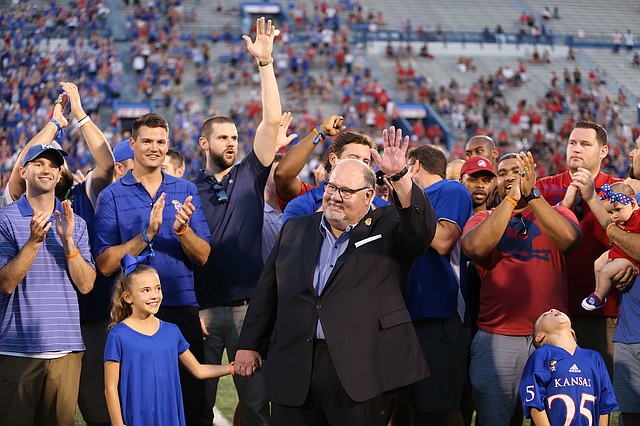 Former Kansas head football coach Mark Mangino and members of the 2008 Orange Bowl team wave to fans as they are recognized during a halftime ceremony, Saturday, Sept. 2, 2017 at Memorial Stadium.
Stories this photo appears in:

Like most people doing their best to navigate through the COVID-19 crisis, former University of Kansas football coach Mark Mangino isn't sure what will come next in these unpredictable times. And for the retired Mangino, who often spends his fall Saturdays attending college football games or watching them on TV, that uncertainty is hanging over the sport he loves. By Benton Smith

Any Kansas fan feeling nostalgic for the days of bowl victories and winning football under former coach Mark Mangino will have to keep on cherishing those memories.

A day before being inducted into the Kansas Athletics Hall of Fame, Mark Mangino sat at a table in the Chancellor's Lounge of the Anderson Football Complex, some 40 feet away from the windows overlooking Memorial Stadium. He had one piece of advice for the current team, though it wasn't something that could be spoken. By Scott Chasen